D.I.Y Music and Fashion Fest
Steve Crooks, Curtiss King, Kasino Gang, Cam Gnarly, Chief, Fredo, Twin Towers, N.I.D, Dirty Suspects, Smokin' Ice, A.R.S, Cam Archer, 3D Beats
Date(s)
September
Next date of this event TBD.
Venue / Location
The Glass House
163 W Second Street, Pomona, California 91766
Pomona California
Contact by Phone
Enter your phone number here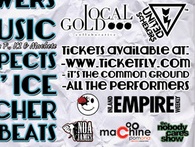 ---
The second version of the D.I.Y. Music & Fashion Festival will happen on Saturday, Sept. 8 at the Glass House in Pomona.
It aims to promote new age fashion and encourage budding talents in local hip-hop
The lineup consists of Stevie Crooks, Curtiss King, Kasino Gang, Cam Gnarly, Chief, Fredo, Twin Towers, N.I.D. Music, Dirty Suspects, Smokin' Ice, Cam Archer, A.R.S., and 3D Beats . Noa James and Hardwerk will be hosting the show.
It's a lethal combination of contemporary music and trendy fashion that you definitely don't want to miss. Revel in the exhilarating experience that will leave you completely spellbound.
Find out our list of accommodations for Pomona, California.
---
---