Indianapolis 500
No other singular sporting event in the world has a legacy like the Indianapolis 500. In addition no other event has shaped and defined a city and state and their people like the Indianapolis 500. In conjunction with the race there is the 500 festival, which over the past 47 years has grown to become one of the largest festivals in the nation.
Date(s)
May
Next date of this event TBD.
Venue / Location
Indianapolis Motor Speedway
Indianapolis Indiana
Contact by Phone
317-492-8748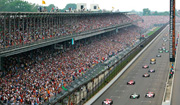 ---
Every year at the Indianapolis Motor Speedway in Indianapolis, Indiana the ground will rumble as the cars take to the 2.5 mile oval track for the 95th Indianapolis 500 auto race. Taking place anually at the Indianapolis Motor Speedway in Indiana since 1911, the Indy 500 is the world's most famous auto race. The race is 200 laps and covers 500 miles in all.
Called the world's largest single-day spectator sporting event, the Indianapolis 500 is sure to be filled with excitement. When traveling to Indianapolis, ID for the Indianapolis 500 race don't forget your tickets! With many events in the days leading up to the race, so there will be plenty to do nearby your rental Condo or vacation home in Indianapolis Indiana. Listed on FindRentals are a variety of homes, hotels and condos in and around Indianapolis, Indiana for you to select from. Find Condos, Cabins, furnished rentals, vacation homes, townhouses and other vacation rentals. If you can't find what you're looking for, contact us using the form above, and an agent will contact you as soon as possible. Enjoy the Race!!
---
---