Atlanta's Greatest Hits
Atlanta's Greatest Hits: Top 10 Places to Go and Things to See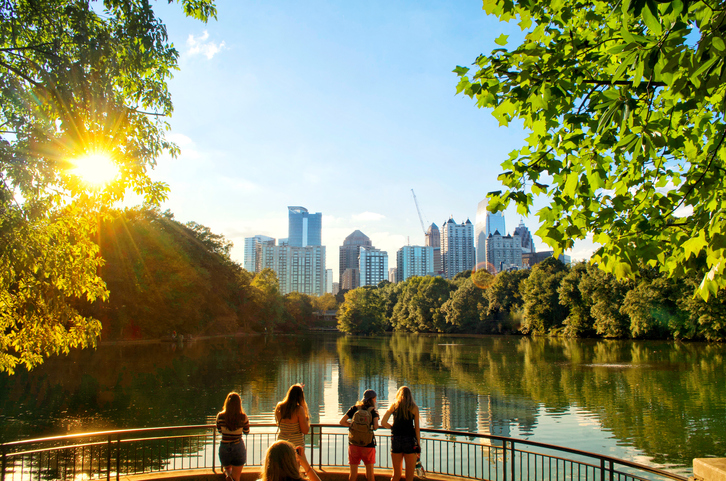 Do you have an upcoming trip to Atlanta but are wondering what to do there? We've got just the thing for you! We've rounded up Atlanta's greatest hits—the top 10 places to go and things to see while in the city. When you choose to stay at an Atlanta vacation rental, you can be close to all the things to see and experience it like a local. Here are the 10 places you need to go during your Atlanta vacation rental experience!

10 Things to Do in Atlanta

1. Piedmont Park: This local park is a highlight of Atlanta. If you're staying in an Atlanta vacation rental, you'll be close by to enjoy the beautiful outdoor green space.
2. Georgia Aquarium: Get up close with the animals at the aquarium. There are presentations and exhibits so you can see animals like sea lions, belugas, or sharks up close.
3. Martin Luther King Jr. National Historic Site: Experience an important part of our history by visiting the place where Martin Luther King Jr. was born and grew up. Learn all about his life and legacy here.
4. Varsity, the world's largest drive-in restaurant: This is a drive-in like no other! The Varsity covers two city blocks, making it the largest in the world.
5. Atlanta Film Festival: Each spring, Atlanta is hosts world-class films from talented creators. If you're in town for an Atlanta vacation rental experience at that time, make sure to check it out!
6. Atlanta Botanical Garden: If you're looking for a beautiful, inspiring place to go for a walk—this is it! The Botanical gardens include 70 sculptures incorporated into the gorgeous gardens.
7. LEGOLAND Discovery Center: Who doesn't love LEGO? Immerse yourself in it here at LEGOLAND, where you can build, experience, and ride all things LEGO.
8. National Center for Civil and Human Rights: The museum says it best of all—its mission is to be a "cultural institution that connects the US Civil Rights Movement to the human rights challenges today."
9. Zoo Atlanta: Want to hang out with some elephants, monkeys, and tigers? Come out to the Zoo! It's a wonderful place to spend the day enjoying and learning about various wildlife and animals.
10. World of Coca-Cola: Did you know that Atlanta was the birthplace of Coca-Cola? You can learn all about it at the World of Coca-Cola Museum experience.
Atlanta is a great city with tons to see and do. So, what are you waiting for? Book your Atlanta vacation rental today and go exploring. Find Rentals Atlanta has a complete list of current Atlanta vacation rentals available now—come join us!