Wedding Venues and Accommodations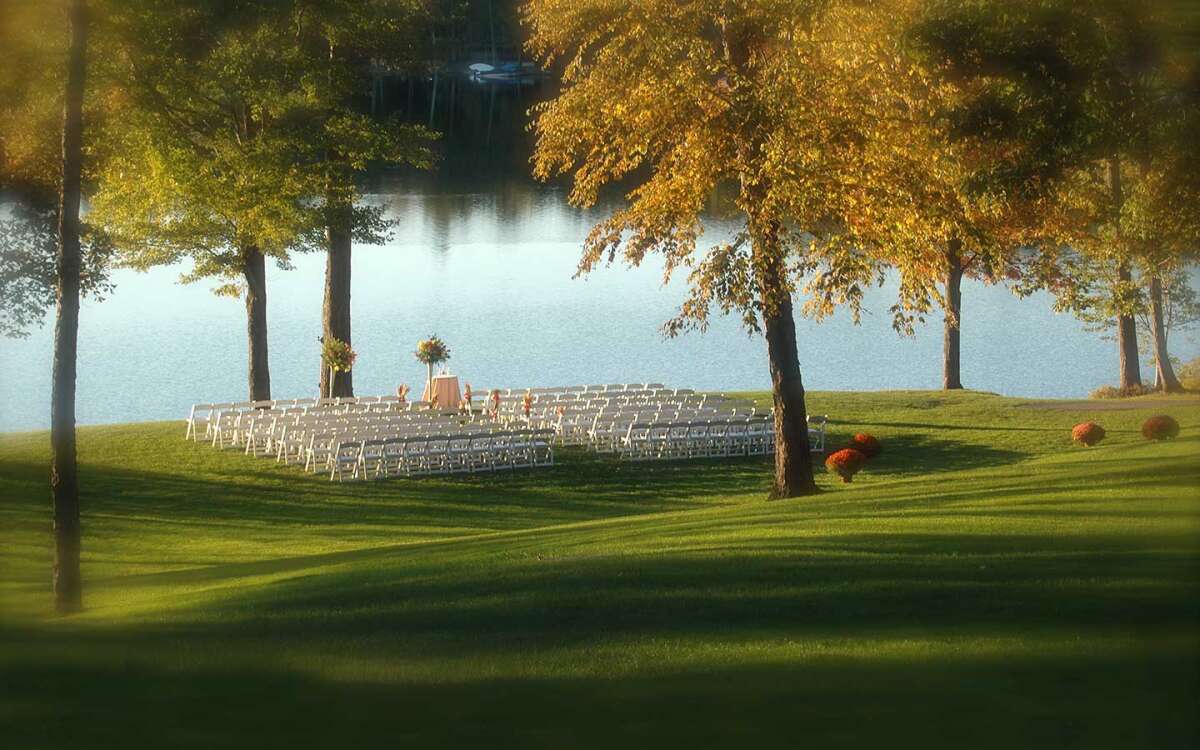 Featured Wedding Venues and Accommodations
Woodloch Pines Resort on Lake Teedyuskung
On your wedding day, as well as the time leading up to it, we provide the highest level of hospitality so that you don't have to deal with the stress that comes along with wedding planning. (We just want you to focus on being beautiful you!) Your personal wedding coordinator will be with you every step of the way to ensure that your big day is one for the books.
After your vows have been recited (overlooking our 150-acre lake or on our 18-hole championship golf course), your fairytale will come to life during your reception. Select from a number of accommodating dining facilities, along with a wide array of packages, which will meet and exceed any of your wedding day needs and wishes. Whether you decide on an intimate small-scale affair or a lavish boisterous celebration, the sky is the limit when you choose Woodloch for your wedding!
Woodloch Pines Resort Wedding Packages
Weddings at Fernie British Columbia Canada
Fernie Lodging Company welcomes weddings and events of all sizes. We offer large group accommodations to suit any budget, a function room that can host small to medium groups and the Lizard Range as a backdrop. Call or email us today to see how we can make your next event memorable.
Weddings on Edisto Island
Destination weddings are popular on Edisto Island and Edisto Realty is here to help you find the perfect home. Whether you envision a sunrise or sunset service, dancing under the stars or just a few folks to gather in the yard, Edisto Realty has the accommodation for you.
Your Edisto wedding can be customized to suit every style and budget. We feature some of the most perfect ocean and marsh front homes as a backdrop for the style of wedding you are dreaming of, along with delightful accommodations for your guest. The pristine beaches and natural beauty of our island are the perfect backdrops for a special celebration.
Edisto Realty is honored to be a part of your special day.
All Special Event Home Fees:
Full week (seasonal rate)
Mandatory event fee ($950)
Taxes and Fees
Mandatory Cleaning Service
Refundable Security Deposit ($500)
All events are subject to preapproval –up to 75 guests
Due to houses having septic systems, portable toilets must be rented if the guest list exceeds the occupancy limit of the home.
Top Wedding Destinations
---
Search Wedding Rentals
Examples: cabin, 3 bedroom, Florida
Woodloch Pocono Resort Lodging
Contact Reservations and Guest Services at Woodloch Pines Resort to book your next vacation rental.
Find the perfect Destination and Vacation Rental Management Company to assist in your wedding celebration with friends and family. Your wedding day will be one of the best days of your life. You've made sure that every detail is perfect, and now you can make sure the atmosphere is perfect too. With Find Rentals Wedding Rentals, you can have peace of mind knowing that there is a cozy home away from home to welcome you before and after the wedding ceremonies.
Say "I do" and find that unique vacation rental today!