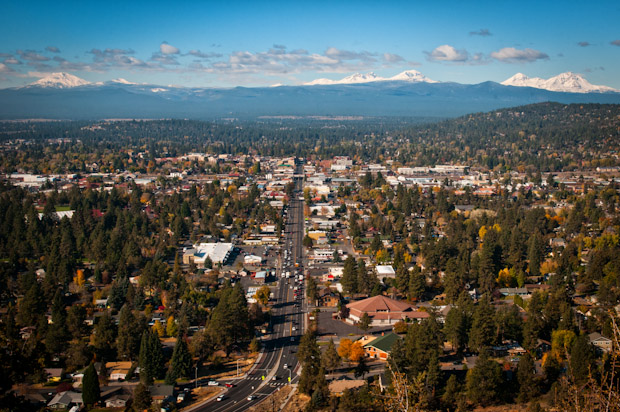 Bend Oregon
Bend, Oregon is a resort city amidst a mountain retreat. The ski slopes and hiking trails at your back door and the spas and award-winning dining at your front. Not only is Bend the largest city in central Oregon but Bend is famous for so many things: touted as being the playground of the West, more brewries per capita than any other city in Oregon, near to one of the most difficult PGA golf courses, and last but not least consistently named one of the Northwest's biggest and best ski resorts. Bend, Oregon is a great memory-making vacation destination-fun for the whole family!
---
Rental Managers in Bend Oregon
Geography/History
Bend Oregon is the largest city in Central Oregon-although the lowest population .poulation density of the region-it stands at approximately 79,000. The Deschutes River runs along Bend's western edge and is surrounded in pine forest and high desert. For years before White men discovered Bend, Native Americans used the area for hunting and fishing. In the late 1800's, the area gained the name Bend as it was referred to as "Fairwell Bend" by the pioneers who set this land apart along the Deschutes as fordable-eventually making it an official location for building a city. By the early 1900s, Bend began to make its profitability and growth expand with the establishment of their first water powered sawmill. Eventually this lead to the building of the Light and Power Dam which provided electricity for the entire area.
Tourism
Make plans for a great time when you vacation in Bend Oregon-often coined as the "Playground of the West." A city naturally breathtaking, surrounded in forest, desert, snow-capped mountains and yet a city with all the benefits of the cosmopolitan. So you can enjoy hiking, fishing, swimming, and rafting-everything conveniently at your fingertips. Bend is one of Oregon's largest ski resort areas. Known for its heavy snow falls, Mount Bachelor's snow is supreme for the best of skiing adventures or snowboarding excursions. What's even better-Kids 12 and under ski free! For those who are just starting out-Sunshine Park is a great resort for beginners to take the bunny slopes or stick to cross country. Not only does the area offer over a dozen golf courses to choose from-unique specifically to Sunriver Resort is one of America's top rated courses for difficulty, including one of PGA's most challenging holes! Crosswater Golf Course is surrounded in forest and littered with rivers-leaving you with a golf game experience that will be remembered for years to come. Be sure to discover the magical beauty of Prineville Reservoir State Park and the Smith Rock Park, often called one of the "Seven Wonders of Oregon." When you are all cleaned up from taking advantage of the plethora of outdoor fun, get ready to learn about more of the treasures of the area by visiting the Newberry National Volcanic Monument and the High Desert Museum. There you can view the inside of an active volcano, as well as some colorful historic characters. Tour the city and find the best of galleries, award winning restaurants and the finest day spas for rejuvenation after hitting the slopes! Bend, Oregon is absolutely full of what makes a vacation destination great-that you'll have to plan a return trip in order to come even close to experiencing it all!
Map of Bend Oregon