Things To Do Honolulu Waikiki Area Oahu Hawaii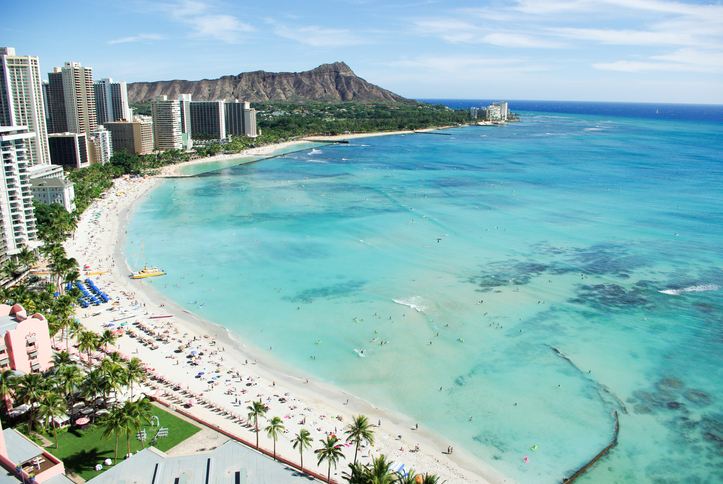 Honolulu Waikiki Area Hawaii
As the principal port and capital of Hawaii, it's easy to expect that the Honolulu Waikiki area is the most visited place in the Aloha State. Anyone who wants to come to this city can take direct flights from the U.S. mainland states and some countries in North America, South Pacific, and Asia.
You'll love the tropical climate and white sand beaches of Honolulu Waikiki area of Hawaii on the island of Oahu. There are also historic buildings, museums, posh restaurants, luxury resorts and vacation rentals, and shopping malls all around the city. The Waikiki neighborhood in Honolulu showcases the culture and history of Hawaii. The stunning beaches, refreshing turquoise seawater, the waves, and coral reefs make the Honolulu - Waikiki area an excellent place for water activities, such as kayaking, paddleboarding, swimming, snorkeling, and surfing.
If you need more information about what places to visit and tourist attractions to see in Honolulu Waikiki area, you can read this list.
---
Book Direct and Save with a Vacation Rental Management Company

We offer Hawaii Vacation condo rentals on all islands...from moderate to Luxury, Oceanfront Condos. Our friendly staff members are destination experts.. learn more
Sites and Attractions You Should Visit in Honolulu Waikiki Area Oahu Hawaii
Hanauma Bay Nature Preserve
Hanauma Bay is a natural embayment which is home to over 400 species of fish and an abundance of Green sea turtles.
In the 1950s, snorkeling became so popular that the area suffered from over-tourism. In 1990, efforts began to restore the beauty of Hanauma, and today only a limited number of tourists are allowed to visit to prevent damage and pollution to this piece of paradise.
The best way to experience Hanauma is through snorkeling to see the marine life beneath its surface. Visitors can also relax on the beach or take a dip in the shallow waters.
Diamond Head State Monument
Diamond Head is one of the most distinctive natural landmarks in Honolulu. This peak has a historic significance as a former coastal fort of Oahu. Nowadays, hikers climb to the summit of this volcanic tuff and enjoy the breathtaking views of the coastline. You can also see bunkers, a fire control station, and a large lighthouse on the summit.
The uphill hike is pretty challenging, and anyone who dares to do the trek should prepare beforehand.
Manoa Falls and Lyon Arboretum
This arboretum and botanical garden encompass 200 acres of rainforest in the Manoa Valley. It features themed gardens, including a bromeliad garden, spice garden, herb garden, palm garden, and an ethnobotanical garden dedicated to ethnobotanist Beatrice H. Krauss. Over 5,000 tropical plants from Polynesia and Hawaii can be found in the Lyon Arboretum.
The place also has several trails, one of which leads to Manoa Falls. This spectacular waterfall is 150 feet in height, and you're free to bathe in its refreshing pool.
Pearl Harbor
Pearl Harbor is a natural harbor with great historic significance to the people of the United States. You can find on this site memorials for the USS Utah, USS Oklahoma, and USS Arizona. Here, you can learn about the natural and military history of Pearl Harbor, especially the tragic attack by the Japanese force on December 7, 1941.
Iolani Palace
King Kalakaua of Hawaii built the Iolani Palace in 1882. It became an official residence of the royal ruler of Hawaii until 1893, when the monarchy was deposed by American settlers. Today, it serves as a museum that tells of the history of the monarchy and its opulence.
The Iolani Palace has a Neoclassical style of architecture. Elaborate decorations and stained glass can be seen on its facade. Native woods carved into complex designs adorned the interior of the royal house. Plus, the carved throne of the king is still standing in the throne room.
Ala Moana Center
Considered the largest open-air shopping mall in the world, the Ala Moana Center has over 350 stores that sell a variety of products, from clothing and souvenirs to houseware and electronics. There are also food stalls and cafes in this shopping center, as well as live entertainment.
KCC Farmers Market
If you want to buy authentic local products, go to the KCC Farmers Market located near the Diamond Head State Monument. This market is hosted by the Kapiolani Community College, and it's open every Saturday morning. You can purchase fruits and veggies produced by local farmers. There are also artisan goods, fresh flowers, and baked goods in this market.
Map of the Honolulu Waikiki Area of Oahu Hawaii