Okemo Vermont Travel Guide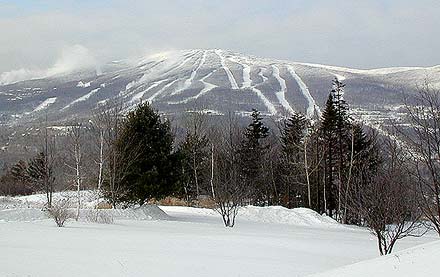 Okemo Mountain Vermont
Okemo Mountain Resort is a popular ski resort located in Ludlow, Vermont. Originally, Ludlow was a mill town, and was the home of a General Electric plant until 1977, after which it became a popular ski resort destination. The resort hosted 600,000 skiers in 2009. It was rated the Top US Family Snow Resort by Parents Magazine.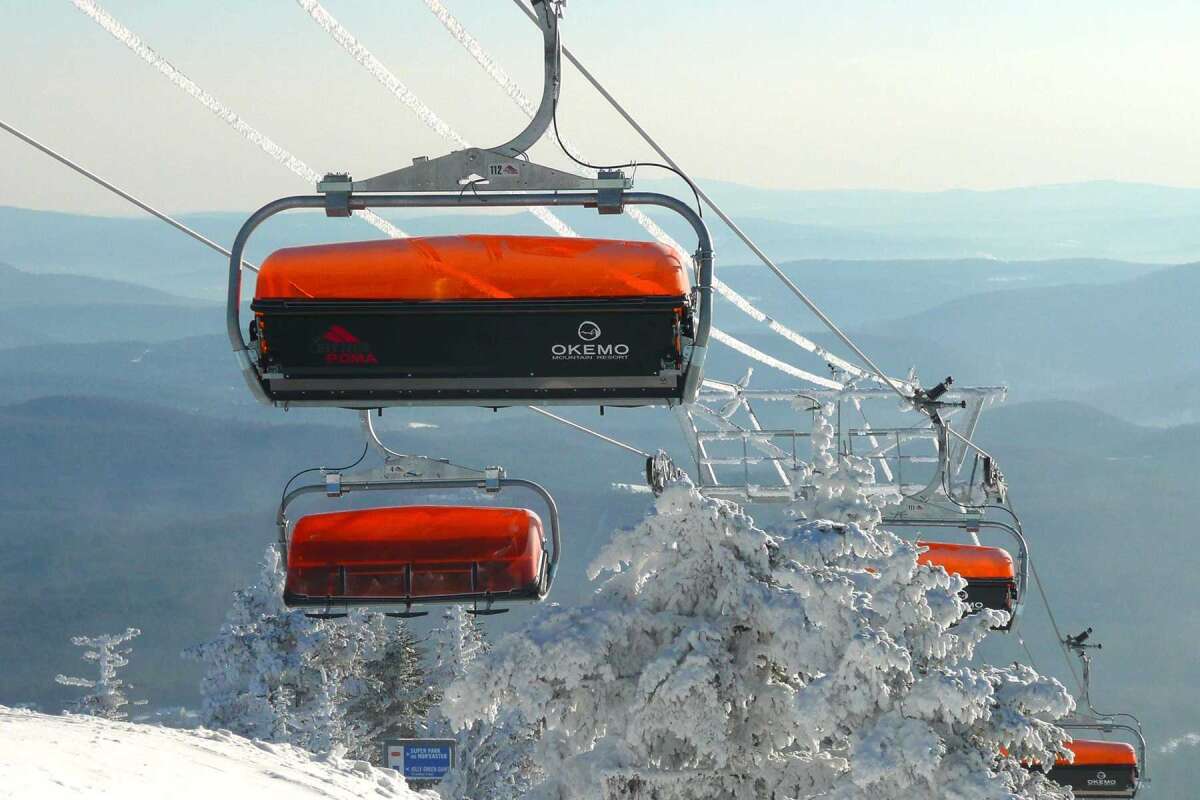 History
In 1955, a group of local businessmen founded Okemo. Operations officially began January 31, 1956, with four inches of snow and trails serviced by two Platter lifts. The early 1960s saw the introduction of four more Platters. Sachem double, the first chairlift, was introduced in 1965. Okemo also began to offer slopeside lodging in1961 along with all of these improvements. In 1963, Okemo purchased its first groomer, a Tucker Sno-Cat model. Snowmaking was started initially with the lower part of the mountain, in 1966.
Okemo faced some tough times in 1970s. There were fires, floods, and competition from the West also grew. Eventually, in 1982, the owners sold the resort. The resort was purchased on August 2, 1982 by Tim and Dianne Mueller. While the resort was in danger of going bankrupt and the facilities were outdated, the Muellers wanted to preserve the historic feeling. They kept the name Okemo, which they claim is Native American for "All Come Home". According to the scholarship of John C. Huden, the name means Chieftain in Chippewa and a louse in Abnaki. Certain trail names also continue to preserve this sentiment, such as Chief, Tomahawk, Wardance, Sachem, and Arrow, all of which are present on today's trail map.
Since 1982, Okemo has experienced a growth in many different fields. The facilities have been enhanced in all aspects, including trails, lodges, new chairlifts and snowmaking.
The Muellers sold Okemo to REIT, CNL Lifestyle Properties on December 6, 2008 in a lease-back deal. CNL now owns the underlying assets of the resorts, while the Muellers continue to run the resorts as usual.
Tourism in Okemo, Vermont
The Okemo Valley serves the Towns of Andover; scenic Cavendish, home of trophy trout fishing on the Black River; Chester, home of the Fall Craft Fair on the Green; Mount Holly famous for Cider Days, Farmers Markets and craft fairs; Ludlow, home of Okemo Mountain Resort, shops and restaurants and the Vermont State Zucchini Festival; Historic Plymouth, Site of President Calvin Coolidge State Historic Site; and Weston, original home of the Vermont Country Store, the Weston Playhouse and the Weston Priory.
There is lot to do, see and experience in the Okemo Valley. A major rule of thumb is to make sure that you enjoy a little recreation, a little culture or history, good food, good music, and a stroll down the main street of one of Okemo's charming villages. The more diversified is one's stay, the more one gets to know and appreciate this special spot in New England.
Activities/Recreation: For a enjoyable round of golf, reservations should be made at the Tater Hill Golf Course or the Okemo Valley Golf Club - an 18-hole championship heathland-style course. In case of water splashing pangs or a sudden urge to drench oneself in water, Camp Plymouth State Park or Buttermilk Falls should be the bet. If kayaking or biking is your adventure pastime, stop by Mountain Riders in Ludlow to rent boats or to inquire about local drop-in locations.
Culture/History/Arts: For a really memorable night, one should get tickets to world-class theater at the Weston Playhouse. If one is very font of arts or crafts, an arts or craft class at the Fletcher Farm School for the Arts and Crafts in Ludlow. And for a good dose of regional history, a visit to the beautiful and well-preserved President Calvin Coolidge State Historic Site in Plymouth should be extremely pleasing.
Shopping: For a complete shopping experience, one should park one's car along the main streets in Ludlow and stroll down the street, stopping in the shops that pique one's interest. A gentle talk with a shop owner could help in landing good bargains and to knowing about other good shopping spots in the surrounding areas.
Map of Okemo Mountain Vermont