Sun Valley Idaho Travel Guide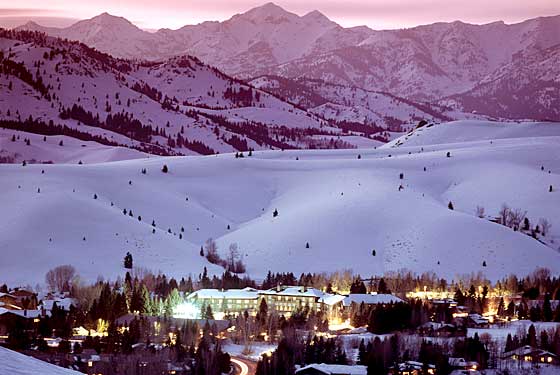 Sun Valley Idaho
Long and comfortable days, cool star-bright nights, and the clearest mountain air you've ever experienced are all things that you would say describe this thriving city called Sun Valley. Its mountainous terrain will leave you breathless and in awe as you stand at the base of the humungous beauties of nature. Sun Valley, Idaho is surely famous for its glorious alpine skiing but the list of other things that you can find to do here in Sun Valley, Idaho is truly limitless. When waking up to beautiful crystal blue skies, the question is not 'What are we going to do today?' but 'What aren't we going to do today?'
History
Sun Valley, Idaho is commonly referred to as the "American Shangri-La" and is not much different from the magical village of legend. Everything that is now known as Sun Valley and how it came to be, all started in 1935, when Count Felix Schaffgotsch, hired by the Union Pacific Railroad chairman Averell Harriman, set out on a journey to find the perfect spot for a grand American resort. Count spent months and months just simply searching for the mountains of the west that he was sent to find. He spent countless days surveying many areas that are now also famous resorts, but none of them met his highest of standards. Finally feeling the sense of defeat creeping up on him, he felt ready to abandon the search. Count was preparing himself to break the bad news to Harriman, when he heard some locals talking of a town called Ketchum. He had never heard of this place until then. Ketchum was an old mining town in central Idaho that made Count curious. He postponed his journey and arrival home and set out one last time to the Ketchum area. When he finally reached his destination, Ketchum Valley, Count Felix Schaffgotsch was overwhelmed with joy and satisfaction by the area and was excited to assuredly be able to deliver the good news to his employer. His famous words to Averell Harriman were, "This combines more delightful features than any place I have ever seen in Switzerland, Austria or the US for a winter resort." And this is how Sun Valley, Idaho came to be.
Tourism
Sun Valley is an experience that is unforgettable year round. In the summer, when activities are abound, every day is filled to overflowing. The list of activities include riding the lift up Bal Mountain an hiking down or taking your bike with you for a fast and fun descent from the mountains. Pack a lunch or eat out at one of Sun Valleys many homey and welcoming restaurants. Some of the restaurants offer you free movie tickets after dining in. Some of these restaurants are Bal Mountain Pizza, Trail Creek Cabin, and The Ram and Gretchen's. The movie passes are available to each diner for a movie for the same night. Ask your server for more information. The many hiking trails in Sun Valley are also popular hot spots and many tourists have taken a peaceful morning hike up Proctor Mountain, where you can see the world's very first ski lift. Other vacation schedule-fillers are horseback riding to Dollar Mountain with the family or testing your marksmanship skills at the Gun Club. Sun Valley also has a variety of places to accommodate you and your family on your vacation. You will find anything from mountain high rental homes to hotels and lofts. The shopping environment is also a one of a kind experience here in Sun Valley. No matter what it is that you're looking for, whether it is a unique gift or to indulge in hand made chocolates or a new outfit for your family vacation, Sun Valley offers unparalleled shopping. The Sun Valley shopping area is conveniently located between the Sun Valley Lodge and Sun Valley In.
Local Events
Any of the local events that you will discover in Sun Valley, Idaho you will find are either unclassified or simply unique. From the Trailing of the Sheep Festival in October to the culinary indulgence of the Sun Valley Harvest Festival in September, all of these events will leave you entertained and wanting more.
Map of Sun Valley Idaho