Nantucket Daffodil Festival Weekend
Daffodil Festival - a celebration of winter's thaw on the Island of Nantucket.
Date(s)
April
Next date of this event TBD.
Venue / Location
Zero Main St - 2nd Floor
Main Street, Nantucket
Town of Nantucket Massachusetts
Contact by Phone
508-228-1700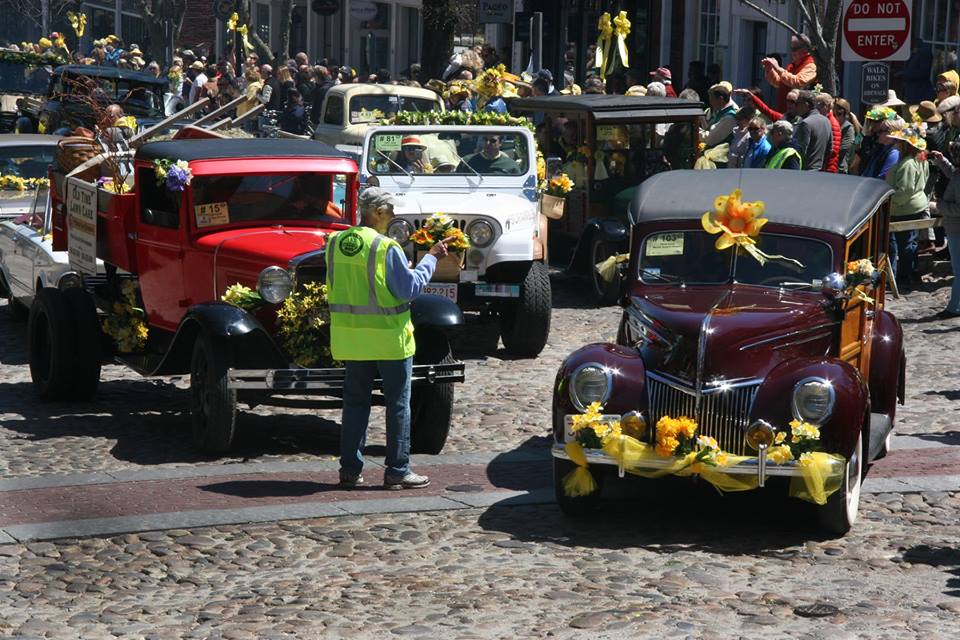 ---
Nantucket in spring is an amazing place to be and the Nantucket Daffodil Festival celebrates and appreciates this time and location. Thousands of daffodils bloom up and down our historic roads and bike paths. From early April to mid May, millions of daffodils of every color, shape, and size bloom throughout the island. The blossoms in shades of yellow, orange, white and pale pink fill the roadsides, gardens, window boxes, and shop windows. It's joyous for both islanders and visitors alike. Come wear your daffy hat, watch the car parade, have a tailgate picnic, and welcome spring! The Antique Car Parade is the Festival's signature event which dates back to the 70's, showcasing over 100 vintage cars (preregistration required for participation). After winding through town, the cars make their way across the island to the charming village of Siasconset where participants join residents and visitors for the Tailgate Picnic. What better way to herald the arrival of spring than lunch on the lush lawns of this picturesque village. Picnic fare ranges from elaborate gourmet cuisine served on fine china to box lunches and burgers. Other festival highlights include the annual Nantucket Daffodil Flower Show and a Daffodil 5K Race. Bring family and friends together to create wonderful memories and of course book a vacation rental so everyone can stay together. Open all week long with some other events to mention such as the family-friendly scavenger hunt, free concert at Children's Beach, featuring rides n an antique fire truck, and a non-profit marketplace with a variety of food, crafts, and merchandise on lower Main Street.
---
---