Live Life On The Wild Side - Visit Costa Rica - Costa Ballena Region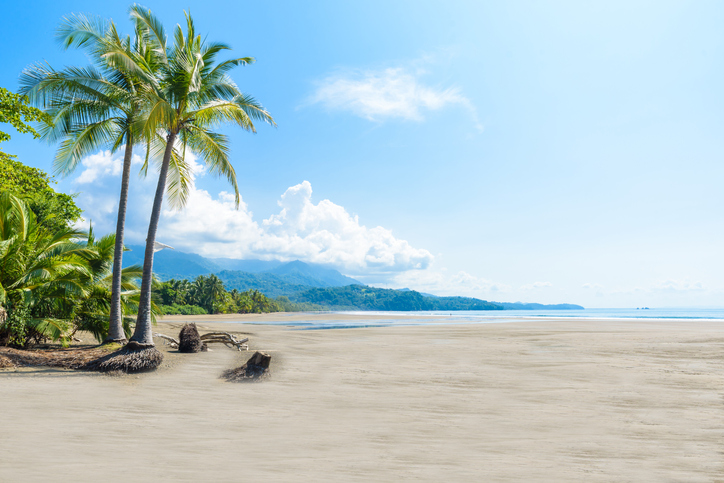 Costa Ballena Puntarenas
Marino Ballena National Park
Costa Rica's South Pacific coast is home to Marino Ballena National Park. To preserve the rich marine life off the coast of Costa Ballena, a park was established in 1990. For the purpose of raising their young, this area is a gathering place for humpback, orca, and pilot whales. Uvita, where the main park entrance is situated, is the closest town. Tourists from all over the world head to the region to enjoy the idyllic beaches and observe the breathtaking wildlife in their natural environmant. Marino Ballena National Park has over 13,000 acres of protected wildlife area and over 300 acres of park includes ocean. The park is filled with numerous habitats, such as coral reef, rainforest, and coastal habitats- all found inside the park. Along the beachfront region, there are plenty of level hiking trails. During the dry season, boat cruises or snorkeling excursions will also transport guests to see dolphin and whales.
The Marino Ballena Park is home to a wide variety of animals. Howler, capuchin, and squirrel monkeys are a few of the land creatures. Sloths, raccoons, pizettes, and occasionally even pumas or ocelots will wander the area. Roadside hawks, white hawks, chestnut-mandibled toucans, keel-billed toucans, sea gulls, sand pipers, and pelicans are a few of the more prevalent bird species. Marine mammals like humpback, false, and pilot whales are the area's main draw. Spotted, spinner, common, and bottlenose dolphins are among the dolphin species that frequently visit the region. Additionally, the park's waters are home to olive ridley turtles and the occasional pacific green or hawksbill turtle.
Playa Dominical
Dominical is a small but expanding beach community located around 27 miles (44 kilometers) south of Quepos. Before reaching this well-known surf town, the coast's tumbling cliffs and the ocean's deep blue color combine to create a picturesque landscape full of tiny bays with genuinely priceless vistas. Plantations, estuaries, mangroves, and wetlands surround the relaxed seaside town. Be careful, birders—you might not want to go!
Although the charming town of Dominical is small, there are many adjacent beaches to choose from for beach lovers. Playa Dominicalito, which is close to Dominical, is a fantastic location for swimmers and surfers who are just starting out. You can see the beautiful green countryside blending with the deep blue Ocean at Punta Dominical, which is located at the southernmost point of Playa Dominicalito. It is a terrific location to see the ocean waves crash against the rocky shore below and practically every day of the year, you may view an almost flawless sunset. Even better, book a Costa Rica Vacation Rental with Find Rentals and you can view the sunset from your bedroom window!
Ojochal Costa Rica
Ojochal, Costa Rica is tucked away just below Dominical and has the charm of a quaint little town. Despite having some of the most stunning waters and beaches in the nation, it has somehow avoided being as popular with tourists as other parts of Costa Rica. Expats from all over the world make their faraway home here. You never know you may move from a Costa Rica Vacation Rental to a Costa Rica investment property after your experience.
Trust me, you'll feel like you've discovered a hidden gem. You'll find lush green hills tucked next to amazing white beaches in one of the most beautiful environments imaginable. A place expats from all over the world love to settle, Ojochai is deemed on of the best places to retire and monkey around. Speaking of monkies, Ojochai not only is home to howler monkeys but loads of varying butterflies and sea turtles ready to hatch! Ojochai's Pacific Ocean, sparkling blue waters are ideal for swimming and diving, and its diverse wildlife offers countless memories to be made in this paradise.
Nauyaca Waterfalls Nature Park
The Nauyaca Waterfalls are situated in a beautiful canyon spanning 80 meters of thick jungle-like foliage. Measuring 1,000 square meters and six meters deep a natural pool is created at the bottom of one of the falls -forty-five meters high of free fall fun. There are also smaller natural pools that can be used for the entire family's enjoyment-just begging to be a part for fun and adventure.
Access to Nauyaca Waterfalls' eastern side is now possible thanks to a new nature park. You can take a 10-minute truck journey to the waterfall access, after which you must walk 600 meters to reach the waterfalls. The admission charge, trolley ride, parking, restrooms, locker rooms, and access to the nature park hiking trails are all included in the price of $27 USD per adult. Reserving in advance is required. Whether you decide to hike, ride horseback or off road truck experience. But first, check out the Costa Rica vacation rentals in the area so you can spend a few days enjoying what the Nauyaca has to offer.
For those who appreciate the great outdoors and an active lifestyle, Costa Rica- Ballena Region is the perfect destination. Visitors can explore the area on foot, swim, climb, jump, take reels that will surly go viral, and create an unforgettable vacation in one of the most breathtaking settings in the country's southern Pacific region. Your vacation to Costa Rica-Ballena Region will be a memory that lives on for years to come.

---
Book Direct and Save with a Vacation Rental Management Company

Osa Property Management - Costa Rica Las..
Osa Property Management is a Costa Rica based property management company. Our services include full-property management, vacation home rentals,.. learn more
Map of the Costa Ballena Region