Outer Banks Seafood Festival
The mission of the Outer Banks Seafood Festival is to provide a fun and educational experience promoting, honoring and celebrating our coastal seafood heritage and community.
Date(s)
October
Next date of this event TBD.
Venue / Location
6800 S. Croatan Hwy, Nags Head
Nags Head North Carolina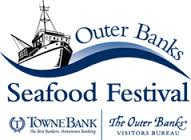 ---
Collectively, Currituck, Dare, Hyde and Tyrrell Counties – the Outer Banks – have a rich history of 2nd, 3rd, even 8th generation families who crab, shrimp, oyster, clam and fish as a demanding and specialized trade.
While settled in the 1600s, it took post-Civil War era technological developments and more efficient transportation and distribution systems to get the Outer Banks seafood product to market. Prior to the industrial revolution, our people mostly clammed, oystered and crabbed for sustenance. But by the 19th century, commercial fishing had become an important contributor to the economy of Wanchese and Hatteras Island.
Today many of our local fishermen have fathers, grandfathers and great grandfathers who earned their living farming the ocean, oftentimes under adverse conditions. Several fish alone or in small groups. Some fleets run out of Wanchese. In addition, fleets of charter boats run out of marinas on Ocracoke Island, in Hatteras, Oregon Inlet, Pirate's Cove, and several other locations all bringing fishing enthusiast out for the thrill of fishing in the clean waters that surround the Outer Banks.
Now in the 21st century, many of our Outer Banks commercial fishing families are in danger of disappearing.
The U.S. fishing industry is being hit hard by such factors as increased and ever-changing regulations, rising fuel costs and importation of foreign seafood. According to the NC Division of Marine Fisheries, the influx of cheap imported fish and shellfish has driven down prices to those earned in the 1960s. As a result, many fishermen are being forced to find other professions, and the long, hard hours in exchange for low pay are deterring future generations from carrying on the family business.
The Outer Banks Seafood Festival is a 2012 extension of so many other events that have been held to honor our fishing heritage. For years, the Outer Banks held 'The Wanchese Seafood Festival' which was a celebration of the industry and the village that was built on bringing in fresh seafood to market. In Hatteras each September, there's 'Day at the Docks. on the waterfront in Hatteras village. The event celebrates the working traditions of the waterfront with seafood cooking demonstrations, fishing boat and gear displays, fishing industry skills contests and competitions, local seafood cooking competitions, music, author readings, a chowder cook-off contest, activities for children and concludes with a Blessing of the Fleet. (For more info on this year's event go to www.dayatthedocks.org.)
The Outer Banks Seafood Festival is the result of a renewed desire to bring that history and heritage back to life for visitors and locals alike.
The idea for a seafood festival has been percolating for the last few years with several organization, but it wasn't till last fall when all four organizations, The Outer Banks Chamber, The Outer Banks Visitors Bureau, Outer Banks Catch and The Outer Banks Restaurant Association sat down and really forged a partnership of their resources, talents and time that allowed the event to take shape. Now an advisory group some 20 strong meet regularly to bring this inaugural event to life. The response has been overwhelming. People with various areas of expertise and event experience have all generously offered to help. The Town of Nags Head has provided their help with the site and navigating all the requirements that must be met to have a major outdoor event.
---

Beach Realty & Construction - Kitty Hawk..
Beach Realty & Construction - Kitty Hawk Rentals is a family-owned and operated full-service real estate and property management company in the Outer.. learn more
---