Sturgis South Dakota Travel Guide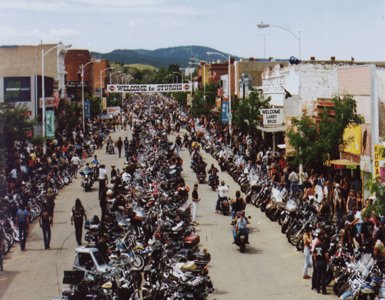 Sturgis South Dakota
Sturgis is a city in Meade County, South Dakota, United States. The population of the city at the 2010 census was 6,627. It is the county seat of Meade County and it was named after General Samuel D. Sturgis. Sturgis is well-known for being the location of one of the largest annual motorcycle events in the world, which is held annually in the first week of August. Motorcycle enthusiasts from around the world come to this usually sleepy town during the Sturgis Motorcycle Rally.
---
Rental Managers in Sturgis South Dakota

Are you planning a vacation to the Black Hills? Deadwood Connections is your Connection to the Black Hills of South Dakota. Deadwood Connections was.. learn more
History
Sturgis was named after Col. Samuel Sturgis of the U.S. Seventh Calvary. It was established in 1878 as a "no holds barred" supply center for Fort Meade. Sturgis had an ample representation of saloons and gambling dens, as laid out by Jeremiah Wilcox - an in-law of Colonel Sturgis. Sturgis once became known as "Scooptown," because of the regularity with which the establishments "scooped" the pay from Fort Meade soldiers' pockets. Sturgis may have changed over the years, but it still remains a colorful and fascinating area rich in history and character. In 1938, motorcycle enthusiast J.C. "Pappy" Hoel got a few friends together for a weekend of friendly competition, picnicking, and a tour of the Black Hills. Today, the same Sturgis Motorcycle Rally has grown by many folds and is known worldwide.
Events in Sturgis, South Dakota
The Sturgis Motorcycle Rally is the major event of all the events in a calendar year in Sturgis, The Sturgis Motorcycle Rally is an American motorcycle rally held annually in Sturgis, South Dakota, usually the first week of August.
The first rally was held on August 14, 1938, by the "Jackpine Gypsies" motorcycle club, who still own and use the tracks, hillclimb, and field areas where the rally is centered. The first event was called the "Black Hills Classic" and consisted of a single race with nine participants and a small audience. The founder is generally thought to be Clarence "Pappy" Hoel. He first purchased an Indian Motorcycle franchise in Sturgis in 1936 and formed the "Jackpine Gypsies" that same year.
The focus of the motorcycle rally was originally racing and stunts. In 1961, the rally was expanded further to include the Hillclimb and Motocross races. This includes half-mile track racing, intentional board wall crashes, ramp jumps and head-on collisions with automobiles.
In recent years, the popularization of motorcycling has led to increased attendance of classic rallies such as Sturgis. The attendance count in in 2005 was 525,250, whereas in 2000 it was 754,844. Since last couple of years, the new attendees of the Sturgis Rally have included families, who bringing their children and drive trailers and campers to the rally.
Map of Sturgis South Dakota