Sturgis Motorcycle Rally
Sturgis Motorcycle Rally - Black Hills of South Dakota!
Date(s)
August
Next date of this event TBD.
Venue / Location
Town of Sturgis
Sturgis South Dakota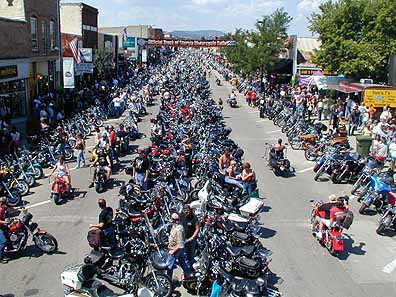 ---
South Dakota hosts the biggest motorcycle rally in the United States. Your first trip to Sturgis will make your head spin, eyes throb, and ears roar. You'll enjoy every minute of it and once you have attended, you will understand what is impossible to put into words.
Every year since 1938 (except during WWII due to gas shortages) Sturgis, South Dakota has been the host of the Sturgis Motorcyle Rally.
Originally, the main focus of the Sturgis rally the motorcycle races and stunts but it has expanded to include Motocross races, Hillclimb contests, and more. Each year is an epic journey, the Black Hills are mesmerizing and the roads offer one of kind riding. It becomes very clear and easy to recall the mantra - ITS THE JOURNEY NOT JUST THE DESTINATION !
If you plan on taking the epic journey and head to the Black Hills of South Dakota, be sure to get your travel accommodations with the help of Find Rentals! With over 100 vacation rental cabins and vacation homes in the Black Hills, FindRentals has a place for you to stay in the Black Hills area.
---

Are you planning a vacation to the Black Hills? Deadwood Connections is your Connection to the Black Hills of South Dakota. Deadwood Connections was.. learn more
---