Martha's Vineyard Massachusetts Travel Guide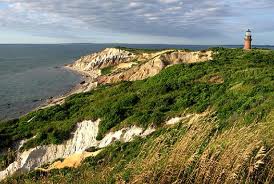 West Tisbury Massachusetts
Martha's Vineyard is a vacation destination of a lifetime. Cottages, cliffs and a carousel-called the Flying Horses-just a few of the memories that will find you not wanting to leave the Island. Imagine the evening walks on the beach-sun setting with backdrop of lighthouse and windswept moor. From world-famous social gathering spots to world-class seafood, the Vineyard is an opulent island get-away, sure to bring relaxation, solitude and society.
---
Rental Managers in West Tisbury Massachusetts
---
Edgartown Area - Dukes County ~ Edgartown
---
---
Geography/History
Located 7 miles South West of Cape Cod, Martha's Vineyard is approximately 100 square miles and is the largest island in the Eastern United States that is not connected to the mainland by bridge or tunnel. The Vineyard carries quite a reputation for being an affluent summer colony escape. The population of Martha's Vineyard varies from 15,500 year-round inhabitants to upwards of 115,000 in the summer months. Known as the "land amid the streams," Martha's Vineyard was originally inhabited by the Wampanoag people. In 1602, Captain Bartholomew Gosnold christened the island "Martha" after his own daughter and of course "Vineyard" made sense at the time, in lieu of the wealth of wild grapes found throughout the island.

Tourism
The adventure of Martha's Vineyard begins always with the 45-minute ferry ride from Cape Cod-a ride of beauty with a snack bar to boot. Once arrived "on island" you will see what all the fuss is about-pristine sandy beaches, sailboats, gingerbread cottages and gray-shingled homes, remote galleries, sheep farms and farmer's markets. Another of the Vineyard's points of interest is the lighthouses- each with its own historic significance and unique characteristics such as the Gay Head Lighthouse which towers over the famous Gay Head cliffs in Aquinnah. Get up close and personal with the Island Alpacas on the local farm where visitors can learn about the benefits of Alpaca ownership. The farm provides tours, a gift shop, as well as the opportunity to take knitting or spinning classes. Martha's Vineyard is made up of several villages that embody their own piece of historic imprint, magnificently completing the patchwork of cultural and artistic beauty of the entire Vineyard. The commercial center and chief summer colony of the island is the village of Vineyard Haven-abundant with bookstores, shops and cafes. From here, visitors catch the 45-minute ferry ride to and from the Cape. Oak Bluffs-a cozy, colorful resort town-where you'll find a fabulous array of gingerbread cottages and Victorian mansions. Oak Bluffs was known as the summer meeting place for modest worshipping Methodists. Today, the focal point is the Tabernacle, a large iron structure that can seat 2,000 people. Many enjoy the eclectic boutiques, food, bars and nightlife that Oak Bluffs has to offer. Edgartown is a melting pot of Vineyard history. The first town founded on the Island, its origins began as a lucrative whaling port. White clapboard homes in Greek Revival and Federal style still stand and testify to the financial success of its whaling history. West Tisbury is the geographical and agricultural center of the island and home to over thirty of its farms. Saturdays throughout the summer, visitors stock up with a plethera of fresh produce from the farmers market. Gay Head (also named Aquinnah) is mostly undeveloped and famous for its colorful clay cliffs. For more information about Martha's Vineyard visit http://www.mvy.com/
Map of West Tisbury Massachusetts