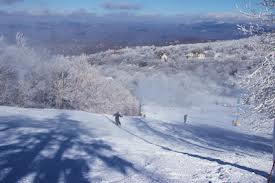 Beech Mountain North Carolina
Experience life in the mountains of North Carolina in the highest elevated town east of the Rockies-even if only for a vacation. The crisp air, breath-taking views and unending outdoor adventures await...and not without a good old fashioned dose of small town charm.
---
Rental Managers in Beech Mountain North Carolina
Tourism
Beech Mountain is an amazing place for outdoor, recreational, and mile-high relaxation. During the winter, Beech Mountain's extreme elevation allows the town to turn into a winter wonderland, great for skiing and snowboarding. The slopes at Beech Mountain are some of the best and are sure to be a blast for kids of all ages. Off the slopes, families can enjoy strolling the greenway, visit the gazebo, and peruse the shops throughout town. During the summer, Beech Mountain has nearly 10 miles of single-tracked, and double-tracked trails in the Emerald Outback, as well as several miles of other trails maintained by the Parks and Recreation Department great for hiking, mountain biking, and trail running. If you are a fan of golf, Beech Mountain is home to some of the most captivating fairways that Western North Carolina has to offer. No matter what the season, Beech Mountain has something to offer everyone in this beautifully one of a kind, and captivating vacation spot. Book your stay today!
Map of Beech Mountain North Carolina