Things To Do in Ocean City Maryland Travel Guide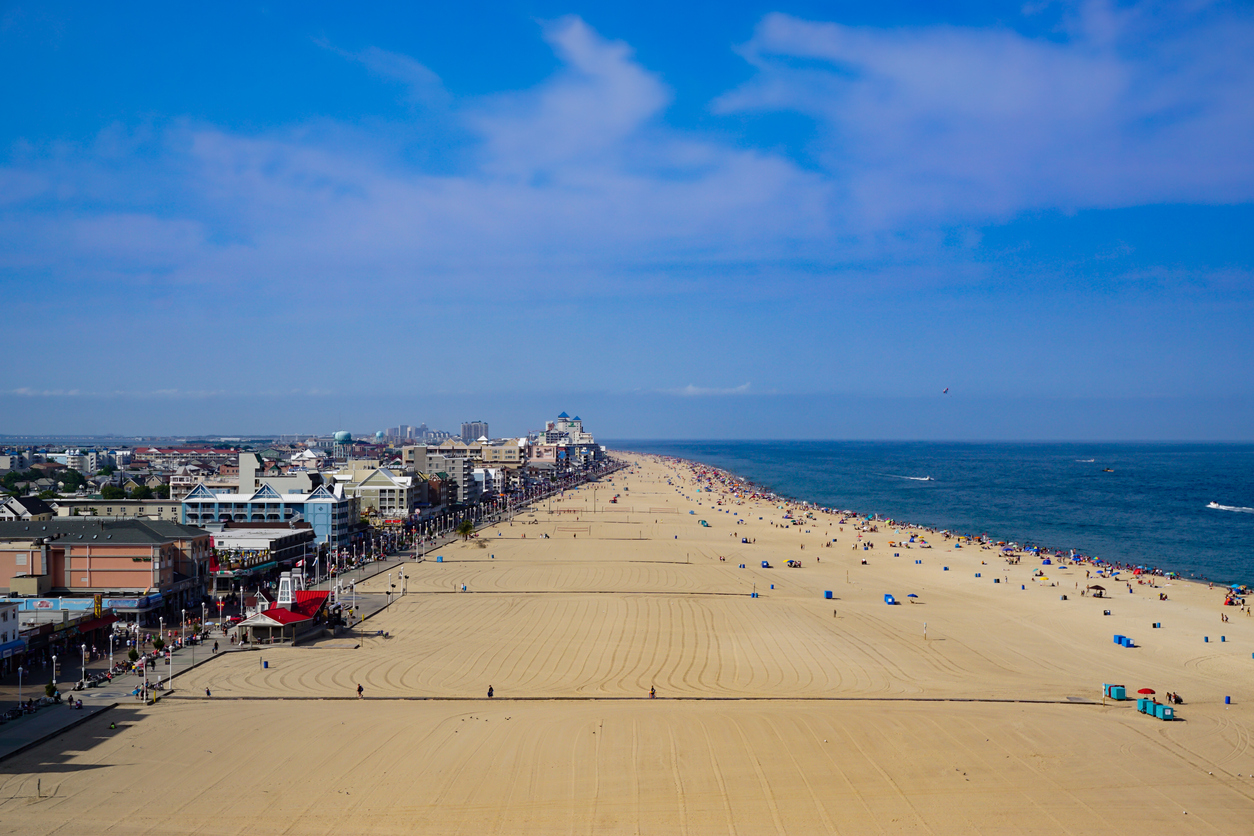 Ocean City Maryland
Ocean City, Maryland is a treasure to the natives and a favorite vacation destination to many out-of-towners! Maryland's only coastal community includes a coveted 10-mile beach paradise and is not only breathtakingly beautiful but free to its visitors as well. Easily accessible from neighboring cities and states, an OC retreat can be both economical and enchanting. Breathtaking sunsets, boardwalk strolls, concerts in the park, outdoor movies, and bonfire story-telling are just a few unique opportunities to Ocean City enjoyed by visitors from near and far.
Ocean City is best known for pristine beaches, countless attractions, world-class restaurants, active nightlife, and of course our world-renowned three-mile-long oceanfront boardwalk. Whether it is deep sea fishing or playing a round of golf at one of our many nearby golf courses, Ocean City is the ideal place to be for your vacation destination. Assateague Island Park is a State Park for nature lovers, where you can enjoy the natural beach habitat and the wild horses.
Beach-lovers will surely get a bonanza of fun in Ocean City, Maryland. The sandy shoreline of this town stretches for 10 miles, along which beach resorts, lodgings, restaurants, shops, and various attractions are to be found. There's something under the sun and on its fine sands for everyone in Ocean City.
The beach areas of the town are divided into three parts: Downtown (Southern End), Midtown, and North End. Here's a guide that gives you a clue about what to expect in this breathtaking beach town.
---
Book Direct and Save with a Vacation Rental Management Company

Shoreline Properties is a local full-service hospitality and vacation rental management company in Ocean City. We have been providing vacation rentals.. learn more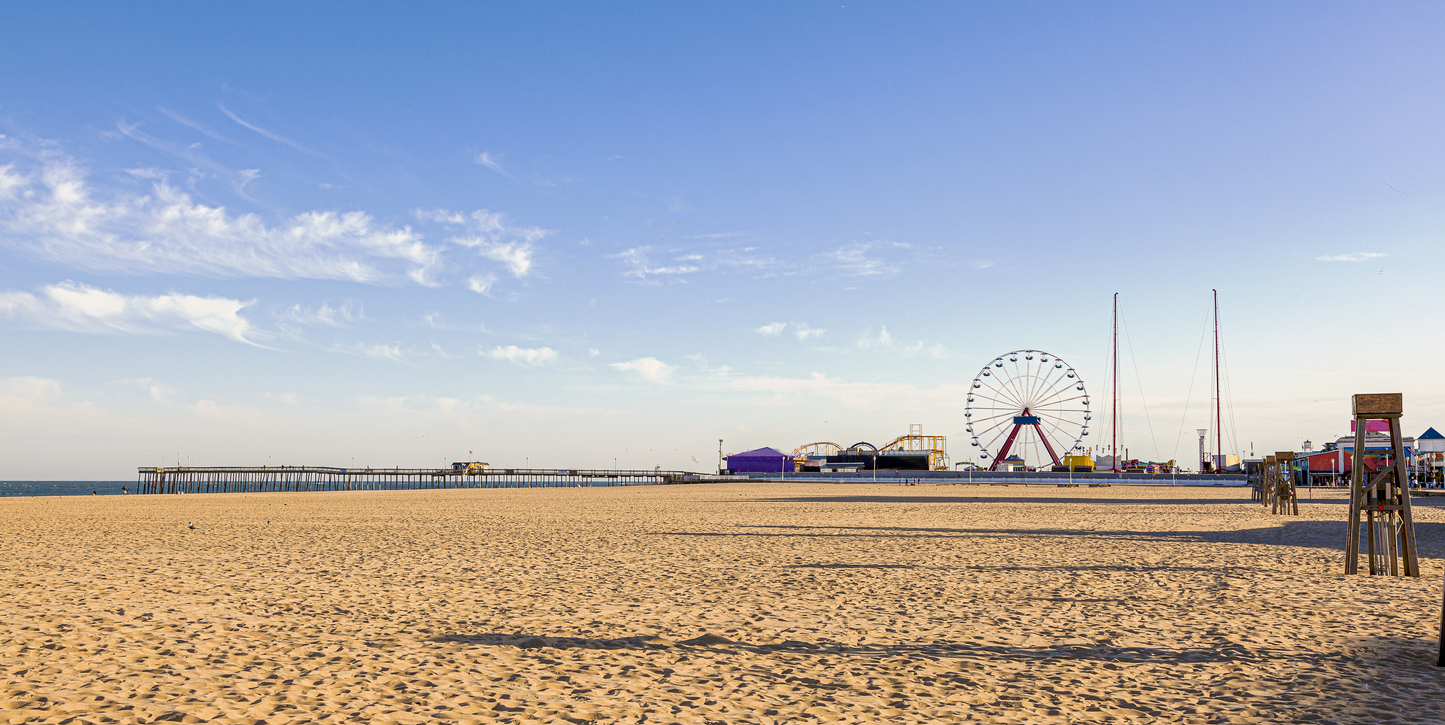 Ocean City Maryland Beach Getaways
Ocean City, Maryland offers 10 miles of white sand beaches along the Atlantic Ocean with access to various water sport adventures as well as the chance to simply unwind and leisurely enjoy the fresh air, rhythmic waves, and picturesque view. Local and visiting surfers taking the OC waves offer up built-in entertainment for those relaxing on the shore.
Downtown Beach Spots
The beach spots downtown or in the southern part of Ocean City are more vibrant because of the large crowd of beachgoers that come here. This beach area starts from the inlet down to 27th Street.
Visitors will find many hotels and resorts fronting the crystal clear waters of the Atlantic. There's a pier where boats are docked and anglers spend their time catching fish. You can access public bathrooms in the area, and there are parking spaces available for your land vehicle.
Midtown Beaches
The beach spots in the middle of the town from 27th to 62nd Street are quieter and less crowded. Many locals consider the beaches in midtown as their place of choice.
There are fewer condos, hotels, and other business establishments. Moreover, several of the lodging accommodations in this area provide pretty views of the sunset. Overall, the midtown beach area is a lovely and serene part of Ocean City Beach.
Beaches in the Northern End
The northern part of Ocean City provides an escape from the bustling crowd in this beach town. It has a peaceful and serene atmosphere that allows you to lie on the sugary white sand and dip in the clean water untroubled.
There are several oceanfront condos and hotels in the Northern section of Ocean City. Two popular resorts here are Fontainebleau Resort and the Princess Royale Oceanfront Resort. For events and other fun activities, go to the Northside Park.
Beach Access
Access to the beach areas in Ocean City is available from the boardwalks and entrance paths located on every block along the streets. The condos and hotels also provide access to the shoreline.
There are also metered spaces, parking lots, and bike racks at the access points to the beach. Most of these parking spaces are free of charge, except in some of the high-end hotels and resorts.
Is Ocean City Beach Free?
Yes, Ocean City Beach is free to whoever wants to enjoy it. It's available from six in the morning to ten in the evening. Just follow the instructions of the Beach Patrol and be near a lifeguard when you're swimming.
Are There Surfing Spots on Ocean City Beach?
The surfing spots in Ocean City have daily rotations. Beach areas along 1st Street, 7th Street, and 16th Street are considered suitable for surfing. There's also one part of the beach along the inlet where surfers can ride the waves. Contact Ocean City Beach Patrol for more information about the surfing areas in the town.
Is Fishing Allowed in Ocean City?
Many areas in Ocean City are available for surf fishing. However, make sure that you follow regulations to ensure the safety of beachgoers. Between 9 a.m. and 6 p.m., you must keep a 50-yard distance from the crowd on the beach or in the water. Chumming and luring sharks are also prohibited in Ocean City.
Is Ocean City Beach Pet-Friendly?
You can bring your pets to Ocean City Beach from October 1 to April 30. Just see to it that pets are put on a leash every time and you remove the waste of your pets. There's also a designated dog park on the bayside on 94th Street. You can also find hotels and resorts that allow owners to bring their pets.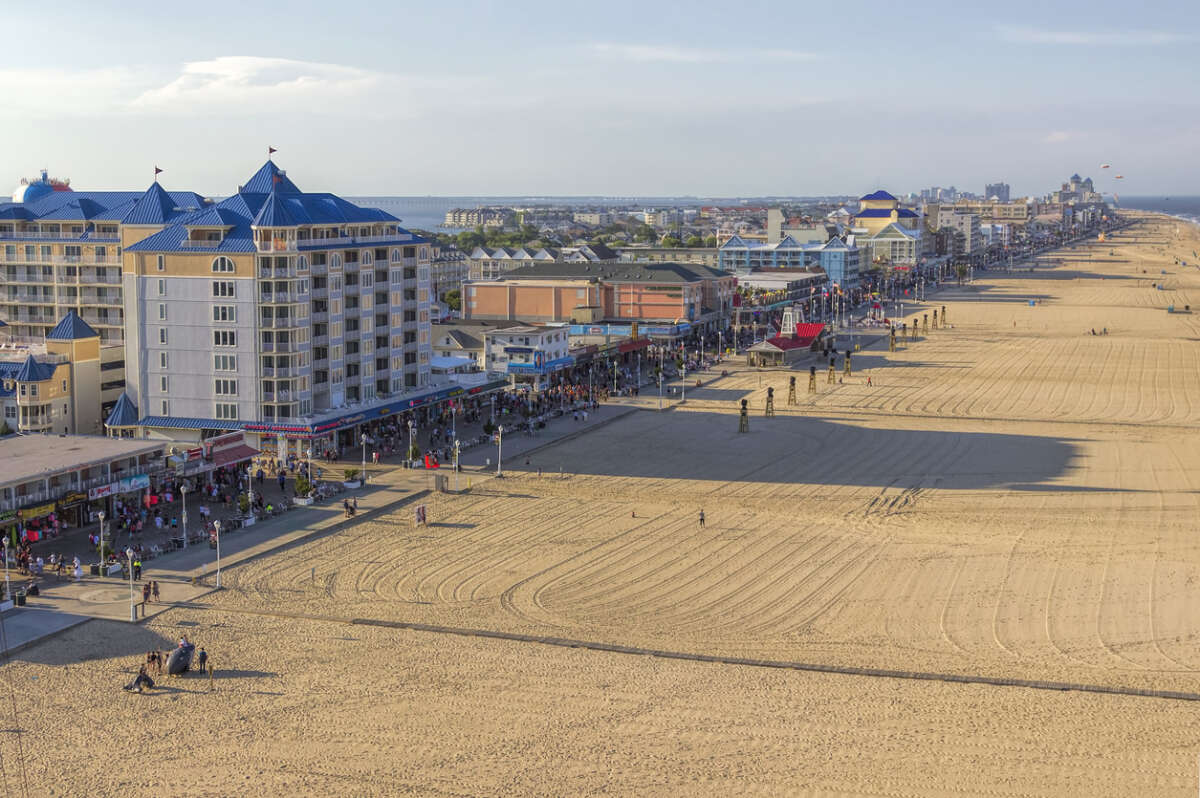 Exploring the Famous Boardwalk of Ocean City, Maryland
Ocean City's three-mile-long wooden boardwalk is a classic landmark in Maryland. It has appeared on the list of USA Today, National Geographic, and the Travel Channel as one of the best boardwalks in the United States.
The famous boardwalk is lined with bars, restaurants, shops, hotels, and various attractions. Visitors can explore the area through biking and walking, and you can also bring your pets to this place during the off-season.
Here's a guide for anyone who wants to explore this beautiful boardwalk in Ocean City, Maryland.
History of the Ocean City Boardwalk
The first boardwalk in Ocean City was built in 1902. Hotel owners conceived the idea to construct a walkway that makes it easier for people to visit their business establishments while savoring the views of the ocean.
In 1962, a storm pummeled the wooden walkway, and then it was reconstructed and extended for 2.2 miles, starting from the inlet through 27th Street. Another storm damaged the boardwalk, which led to the building of a concrete sea walk that aims to protect it from the huge waves during unfavorable weather conditions.
The latest renovation of the boardwalk was in 2012 in the wake of Hurricane Sandy. New sturdy wood replaced the rotten boards of the walk. Today, Ocean City Boardwalk is in excellent condition and as beautiful as ever.
Accommodations along the Boardwalk
It's easy to find a place to stay during your vacation to Ocean City by strolling along and near the Boardwalk. Condos, vacation rentals, motels, and hotels lined the famous promenade, all overlooking the scenic Atlantic Ocean.
These lodging options give you comfort and amenities while you're in Ocean City.
Where to Eat
If you're a certified foodie or just an ordinary vacationer looking for a sumptuous meal, the Ocean City Boardwalk has many dining places that serve different kinds of food and refreshment.
Go to Shenanigan's Irish Pub & Grill for some delicious meals, snacks, and good beer served from a tap. The place also has a live band that serenades guests at night. Another excellent restaurant that offers lunch, dinner, and late-night delights is Golden Plate Sub Shop. This place specializes in Greek cuisines, and you can also order vegetarian meals here.
For fresh pizza and sandwiches, Tony's Pizza is the place to be on the Boardwalk. Sit down and eat your snacks in this restaurant while witnessing the majestic views of Ocean City. If you're craving steaks and beef ribs, visit Bull on the Beach on 2nd Street. There are also food stands that sell candies and desserts along the iconic promenade.
Attractions and Fun Activities
At the southern terminus of Ocean City's Boardwalk, you can find the Inlet Village. This place boasts several shops and other business establishments where you can buy souvenirs or sit down for a dose of entertainment. Walk through the village and into the Harrison's Harbor Watch, Dester Designs & Souvenirs, Cinema Classics, Mish Mish, and The Frog Bar.
Head to Virtual Reality Arcade Downtown on 3rd Street to enjoy some VR games and rides. Try the Jungle Roller Coaster, Star Explorer, Space Hole, Nocturnal Carriage, Giant Frisbee, and Snow Valley Shuttle when you visit this arcade.
You can also visit the Jolly Roger Rides located on Ocean City's Pier. Enjoy amusement rides like the Twister, Hurricane, Looping Star Roller Coaster, Giant Ferris Wheel, and Power Surge. If all these don't satisfy you, go to Trimper's where you can play games, such as Whack-a-Moles and bumper cars from morning until evening.
If you want to explore the Boardwalk riding a bike, there are bike rentals in the area to enjoy a morning bike ride. You can rent quality bikes at Dandy Don's, Bike World, or the Wobbly Wheel.
Takeaway
Don't forget to visit the iconic boardwalk in Ocean City, Maryland. There are various shops, restaurants, resorts, hotels, and attractions along this famous walkway. Take note of this guide if you want to know what are the things to do in the Ocean City Boardwalk.
Additional Things To Do in Ocean City Maryland
Many vacationers choose Ocean City specifically for fishing. The town touts itself as the "White Marlin Capital of the World." During the summer many charter and private boats take groups out for billfish, tuna, wahoo, and other game fish. In early August, the White Marlin Open, one of the largest fishing tournaments in the world is held in Ocean City.
The Ocean City resort area is vibrant and busy with miniature golf courses, shopping malls, and outlets, movie theaters, amusement parks, arcades, go-kart tracks, and the famous three-mile Ocean City Boardwalk on its southern tip. Whether discovering Speed World, Ripley's Believe it or Not, Splash Mountain Water Park, or joining in paying tribute to Ocean City's maritime history at the Lifesaving Station Museum-a vacation in Ocean City is a great place to vacation with family and friends!
Conclusion
Ocean City is the go-to place in Maryland to wallow under the sun and swim in the refreshing Atlantic waters. Its scenic shoreline that stretches for 10 miles offers various beach attractions and activities that will make your holiday getaway a whole lot of fun.
There are lively and peaceful beach spots for your vacation. Everything you expect from a lovely beach town you can find in Ocean City. It's a paradise on Earth!
For more information about Ocean City visit the Ocean City Maryland Chamber of Commerce.
Map of Ocean City Maryland
Suggested Ocean City Maryland Articles
---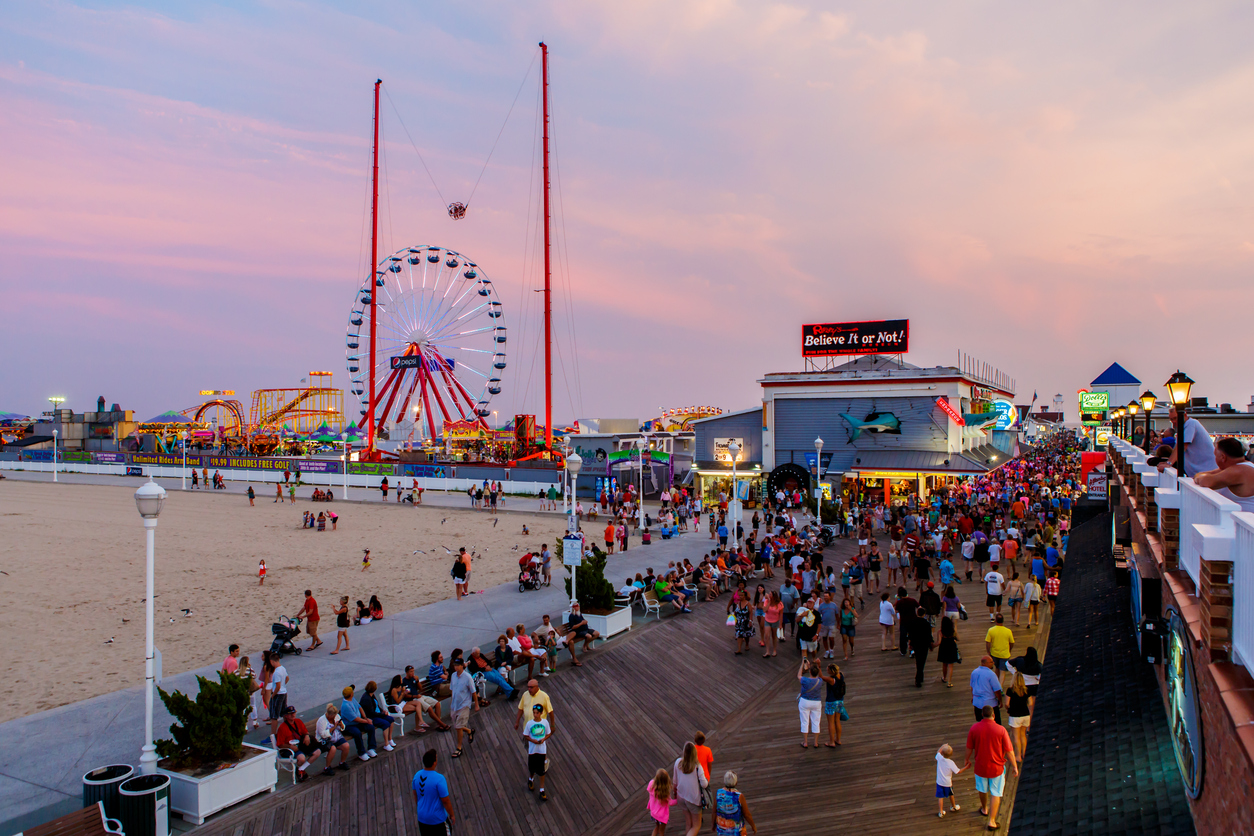 Trip Ideas: Visit Ocean City Maryland
by Anthony Vaarwerk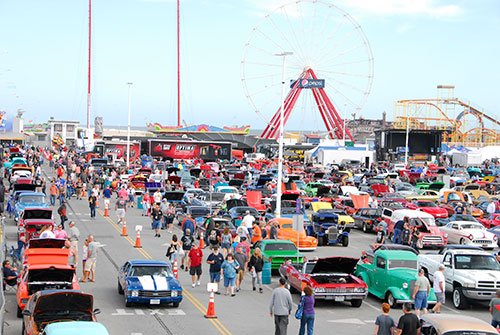 Annual Cruisin' Ocean City Maryland
by Anthony Vaarwerk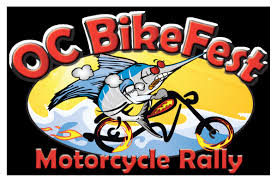 Oc Bikefest
by Anthony Vaarwerk
---