Orwell New York Travel Guide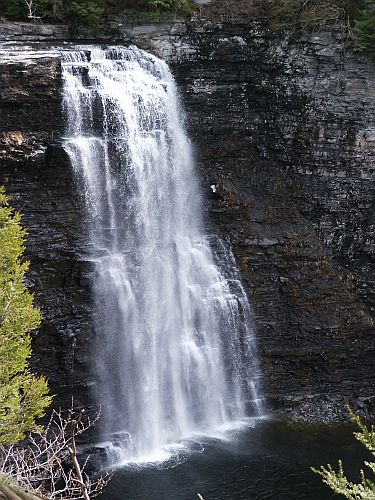 Orwell New York
Orwell, New York is a quaint vacation get-away with the natural beauty of breathtaking waterfalls just a few miles away. Thousand Islands, Autumn Lake, Salmon River, and Salmon River Falls are just some of the reasons you might travel here! HIKING, FISHING, SNOWMOBILING and more.....some of the best you'll find anywhere in the world. HIKING -The gorge trail leads from the falls trail to the bottom of the gorge, and the river bed trail leads from the end of the falls trail to the river bed upstream from the falls. FISHING -Autumn Lake is home to largemouth bass, smallmouth bass, perch and trout BUT the salmon and steelhead trout fishing on Salmon River is what truly makes this area famous! SNOWMOBILING - Trails extend throughout this region and turns this year round location into a winter wonderland. (cross country skiing as well)
Visitors visit this area yearly to discover the fascinating history held in the Salmon River Falls. Walking on the upper falls witness the markings of those that have come before you. See signatures from army regimens from the early 1900's and sweethearts from 1940's. Dont forget that the Thousand Islands is just over an hour away and you can enjoy all the activities and beauty of Alexandria Bay.
Take the ride and enjoy this hidden treasure.
---
Rental Managers in Orwell New York

Newly Renovated Cottages on Autumn Lake in Orwell, NY. Amazing Fishing, Snowmobile Trails, and Cross Country Skiing. - Salmon River & Autumn Lake - learn more
Geography/Tourism
Orwell is a town in Oswego County, New York with a population of approximately 1,700. The Orwell, NY area has access to great outdoor adventures just a short distance away. Salmon River Falls encompasses 112 acres of land, an 110 foot waterfall and a 3000 foot long scenic gorge where there are sheer cliffs and steep slopes as high as 120 feet. Originally occupied by the Five Nations of the Iroquois Indians, the fall is located nineteen miles upstream from the mouth of the river. There it enters Lake Ontario and was the upstream barrier to fish migration, specifically native Atlantic salmon. The Salmon River Fish Hatchery is just a few miles southwest of Autumn Lake in the town of Altmar. The hatchery is open to the public seven days a week. A "fly fishing only" section of the Salmon River is available on Beaverdam Brook. The hatchery raises approximately 250,000 coho, 3.2 million chinook, 750,000 steelhead, 300,000 brown trout and 150,000 landlocked salmon each year. If waterfalls are a favorite-also check out the High Falls in Copenhagen just 28 miles further down the road. Another favored local in Orwell is Autumn Lake, a beautiful 8-acre private lake. This secluded lake offers a peaceful and private setting, ideal for fun and relaxation. Several cottages and summer homes spaced out along the shoreline can be rented for summer or winter activities. In addition to some excellent bass fishing, snowmobile and cross country ski trails run right by the lake. Autumn Lake is a crystal clear, spring-fed lake. Although motorboats are not-canoes and kayaks are allowed on the lake. Despite its small size, the lake is home to some great largemouth bass, smallmouth bass, trout, perch, bullhead, and bluegill. With a maximum depth of 20 feet, the water is perfect for swimming, boating and fishing. Most of the shoreline is high above the water, offering great views of the area. A naturally sloped area into the sparkling water makes an excellent launch point for canoes, kayaks and rowboats. Because visitors to the lake are few, the Lake is quiet and makes for a peaceful vacation spot for couples or families alike. The opportunities for the outdoorsman and nature lover only increase with the discovery of the state parks -Battle Island State Park, Sackets Harbor Battlefield State Park, Erie Canal State Park and Fort Brewerton State Park are all with 30 minutes' drive of Orwell. Lots to do in this little town- a great little secret with a great big fish and unforgettable waterfalls!
Salmon River Falls - www.dec.ny.gov/lands/63578.html
Autumn Lake - www.lakelubbers.com/autumn-lake-1581/
Map of Orwell New York