Put-In-Bay Ohio Travel Guide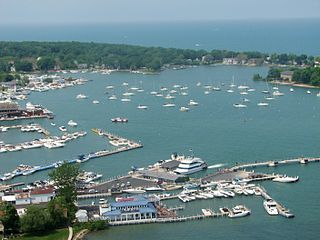 Put-In-Bay Ohio
Put-in-Bay, Ohio is an island respite for many travelers each year. This quiet and charming get-away is packed with things to do or places to relax whatever the preference. Romantic walks on the beach at sunset and strolls through the downtown harbor await. Families can dock their boats at any one of the harbor's fabulous restaurants and find themselves just steps away from the specialty shops and boutiques. Besides the usual outdoor excursions, Put-in-Bay has a unique offering with their Heineman's Winery, Butterfly House, Crystal Cave, Chocolate Museum and Wildlife Museum. It may be small but Put-in-Bay has big promise for providing a fabulous fun-filled vacation for all.
Geography/History
Put-in-Bay is a village located on South Bass Island, Ohio with an approximate population of 150. Located 15 miles from Sandusky, this tiny two by four mile island is frequented by over 2 million people annually. Many people believe that the name, Put-in-Bay originates from some early maps of South Bass Island that showed the main harbor was named Pudding Bay as it was shaped like the pudding sacks used by sailors. During the War of 1812, U.S. naval commander Oliver Hazard Perry sailed from the port on September 10, 1813 to engage a British squadron just north of the island in the Battle of Lake Erie.
Tourism
As with most of its history the primary industry of the island is tourism. The tourist season runs roughly between April and October with peak visitation in July. Many visitors enjoy exploring the world's largest geode at Heineman's Crystal Cave or discovering South Bass Island's underground river. One of the Bay's newest attractions is Adventure Bay Amusement Center. The long anticipated Adventure Bay Amusement Park opened to the public in 2011 and offers great adventure for guests of all ages. One unique attraction to Put-inBay is The Antique Car Museum containing a collection that was lovingly gathered by Charles "Skip" Duggan- the co-star of the Sunday afternoon antique car parades. Also, the Put-in-Bay Butterfly Museum at Perry's Cave- a unique habitat featuring a large variety of Butterflies divided into three separate rooms or environments. Looking for a place to picnic? DeRivera park in downtown Put-in-Bay is the perfect place to relax and enjoy the beautiful view of Lake Erie and Delaware Avenue. Don't forget to visit Fort Amaze'n, the Bay's only human maze race. Purchase a time card then mark the start time and race to locate and mark special stops along the way. Continue to race to get a better time than before. Fun for the whole family! The Island Tour Train is a great way to see and learn about the island in a narrated ride format. This one-hour tour of the sites and history of Put-in-Bay makes stops at numerous island attractions and helps to get visitors acquainted with the island life at Put-in-Bay. Those who enjoy learning about the history will want to visit the Lake Erie Islands Historical Society Museum. This beautiful and educational three-building museum is dedicated to the rich history of the Lake Erie Islands. Walk through the transportation building filled with boats or view the models of some of the greatest ships to sail Lake Erie. Learn about the demise of the Hotel Victory, the winemaking industry and island genealogy. Another great spot for history is the Perry Peace Memorial and Visitors Center. The construction of a 352-ft. memorial in honor of Master Commandant Oliver Hazard Perry, who won one of the greatest victories of the War of 1812, was completed in 1936 becoming a revered part of the National Park System and was declared a National Monument by President Franklin D. Roosevelt. Put-in-Bay is a great destination-one full of history, wildlife, outdoor fun, hospitality and personality. Come see what all the buzz is about!
For more information about Put-in-Bay, Ohio visit: http://www.visitputinbay.org/ or http://visitputinbay.com/pib/
Map of Put-In-Bay Ohio