Union Pier Michigan Travel Guide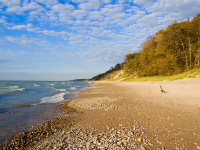 Union Pier Michigan
Union Pier is a southwest Michigan lakeshore village full of charm and serenity-the "sweet spot" for vacationers who are looking for a true get-away-from-it-all respite. The surroundings of Union Pier are bar none with its overwhelmingly beautiful lake life welcoming curious perusal day and night. Walks hand-in-hand along the lake shoreline or adventurous bike rides along endless nature trails-Union Pier is more than a breath of fresh air for those looking to take-in nature's bounty.
Union Pier is a small community in Harbor Country located between the Lake Michigan shore and the Galien River about five miles north of the Indiana state border and just alittle over an hour's drive from downtown Chicago. Union Pier started out in its earliest history as a shipping pier for trading the abundant harvest of timber from the land.
The town was known for its strong work ethic and the deep pride they carried for the richness of their land. The Chicago Fire of 1871 only increased the demand for Union Pier's natural bounty. They continuously turned the empty places from cutting down lumber into orchards and farms and as the lumber became sparse the men turned to fishing- again sending their harvests on to Chicago. Before long, Union Pier became the "United Nations of Tourism." As traveling by railroad became more and more popular so did visiting Union Pier.
Union Pier is a bit of a "one blink" town-only with the best corner store, one-of-a-kind shops and galleries, a candy and ice cream parlor. All this is nestled in amongst the cutest bed and breakfast-boutique type rentals and country resorts spread out across the countryside. After a grand night's sleep in one of Union Pier's charming accommodations enjoy the Blue Plate Cafe for a famously good breakfast or brunch. Visitors and locals rave about Nani's Cafe and Beach shop for their unique grilled dogs in hot buttered buns. They will surely have you coming back for more! a wine connoisseour? Take a winery tour- Round Barn, St Julian's and Free Run Wine Cellars are all cluttered together with Beer tasting to boot. For those who love to pick up the crafts and wares of yesteryear, Harbert Antique Mall is a favorite stopping place. Don't forget the best part about being in Union Pier is basking in the unending natural beauty found there. So if you need a beach chair, a kayak, canoe or a bicycle they can be rented in town for your convenience.
For more information about Union Pier visit: https://www.harborcountry.org/unionpier/
Map of Union Pier Michigan