Wildwood Crest, New Jersey Travel Guide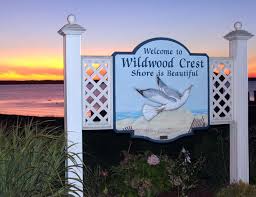 Wildwood Crest New Jersey
Beautiful beaches, a legendary boardwalk, lifelong memories… three vital components to a great family vacation, one truly incredible island beach resort town. This hidden treasure of a city has an unmatched array of attractions, shopping venues, restaurants, historic sights and outdoor fun-- a living, breathing, piece of America that's drawn people of all ages for generations. With over 9 million visitors each year, Wildwood Crest is one of the top family vacation destinations in America!
Geography
Wildwood Crest borders the Diamond Beach section of Lower Towsnship to the south, the city of Wildwood to the north, and the Atlantic Ocean. Wildwood Crest and its neighboring towns of Wildwood, North Wildwood, and West Wildwood make up The Wildwoods. This specific area draws a variety of people from all over the United States, but tends to draw specifically from the metropolotin areas of Philadephia and New York City. Unlike its neighboring communities of Wildwood and North Wildwood, Wildwood Crest is uniquely set apart from the all-hours excitement that the rest of the Wildwoods are so well known for. Wildwood Crest allows many vacationers to find some of the quietest and most undisturbed beach space for miles.
History
In 1609, the English Navigator Henry Hudson was seeking a new route to China, and on his journey, entered the Delaware Bay on August 28. Realizing that the inlet was not the Northwest Passage, he rounded his boat, the Half Moon, northward and watched the waves break on a broad, sandy beach of great beauty. This land that Henry Hudson viewed was a 1.8 mile stretch of beach, part of what is now called the Five Mile Beach. Originally inhabited by the Lenni Lenape Indians, this land was eventually granted to The Duke of York in 1664. In 1717, a small group of investors acquired the land, which was for many decades used for nothing more than farming purposes. It wasn't until 1870 that a few fishermen became the first white settlers and named the land Angelsea. In 1874, a railroad was laid from Cape May to Angelsea. At this time, a bridge was also constructed to allow horses and buggies access to the island. By 1905, the land of Angelsea had been purchased by investors and had begun to grow. Angelsea, along with a few surrounding beaches, were incorporated into a sister community of The Wildwoods, comprising North Wildwood, West Wildwood, and Wildwood City. Angelsea was renamed to be the city of Wildwood Crest and still today remains a sister city in the Wildwoods of south New Jersey. Visitors can learn more onsite information about the history of Wildwood Crest at the Wildwood Crest Historical Society and Museum located at 116 East Heather Road, Wildwood Crest, NJ.
Tourism
In the Wildwoods – Wildwood, Wildwood Crest, and North Wildwood - day or night, you can always find something to do. On the famous boardwalk alone, there are three amusement piers including more than 100 rides and attractions — world-renowned roller coasters and three beachfront waterparks, among them, Morey's Piers. Morey's Piers, located on the boardwalk in the Wildwoods, is a classic seaside amusement park, family owned and operated since 1969, voted the second best seaside amusement park in the world by Amusement Today. Elsewhere on the island, visitors may stumble upon jet skiing, parasailing, wave running, surfing, and speedboat rentals. At night, Wildwood comes to life with grown-up fun. Relax with a few friends at one of the Wildwood's many dance clubs, Irish pubs, lounges, sports bars or one of Wildwood's other many hot spots. The sights, the sounds, and the smells that you will encounter in this beautiful town of Wildwood Crest are pure sensory overload!
Map of Wildwood Crest New Jersey