Short But Sweet Summers Better at Jersey Shore
Short But Sweet Summers Better at Jersey Shore
Pt Pleasant, New Jersey On the Boardwalk Along the Jersey Shore.
The Jersey Shore Offers More!
Summers on the east coast are short but sweet. Looking forward to a summer full of beaches and ocean waves? Jersey Shore is an ideal place for making the best use of summer. For visitors coming from nearby locations including Philadelphia and New York, this is an easy weekend trip, especially during summer. For those looking to spend more time--maybe a week or two--consider booking a Jersey Shore house. When choosing a place to stay, you will find many lovely beaches to explore. Of course, it all depends your hopes and desires.
Places to Go on Jersey Shore
Ocean City is one of the most popular areas on the Jersey Shores. Stretching eight miles along the shores, Ocean City entices guests with charming board walks. In addition, the area offers entertainment, restaurants, shopping, and attractions for both young and old. Moreover, abundant activities are all around for you to enjoy during summer months. Summer time brings free music and entertainers which animate the boardwalk.
Places to Stay
As you may know, Find Rentals puts you in touch with Vacation Rental Managers in Jersey Shore and around the world. Here are some of our favorite VRM's in and around Jersey Shore:
Spring Lake
If all you seek is a quieter vacation spot on the Jersey Shore, then Spring Lake should be your next port of call. Enjoy calm and tranquil beaches with a boardwalk devoid of stores and restaurants. Due to its proximity to New York, Spring Lake makes a perfect choice for a romantic weekend getaway. Additionally, many people plan a weekend trip to Spring Lake to escape the stress of city life. Enjoy great holiday moments second to none relaxing at this beach.
Long Beach Island
Nightlife enthusiasts will find Long Beach Island a lot to love. This 18-mile stretch of beach attracts several thousands annually. Kids, teens, and the young at heart looking to enjoy every moment should not miss out on visiting this shore. Though surfing is not a popular activity in this area, a few spots along this beach are certified for surfing.
Cape May
[caption id="attachment_5331" align="alignright" width="440"]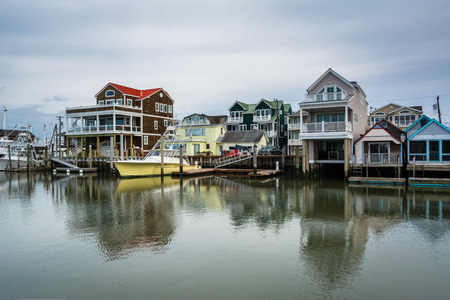 Buildings and Boats Along Cape May Harbor, in Cape May, New Jersey.[/caption]
Cape May has been open to visitors since the 1600s when Native Americans found it an ideal summer vacation spot. The tourism industry started to boom as early as the 1700s after its road was completed. Interestingly, many homes in Cape May had long tunnels and secret rooms which dates back to the Civil War. Later in the 1800's, magnificent Victorian mansions and hotels were built around the city. This was to accommodate the increasing visitors. Today, Cape May is recognized as one of the cities in the United States proclaimed a Historic Landmark City. This designation requires that structures in the city maintain their architectural design–just as they were during the Victorian Period. With over 80,000 tourists annually, Cape May is well known as a top seashore resort town in the USA.
Jersey Shore Attractions
For an unforgettable getaway in Jersey Shores, then explore some of the charming attractions. The trouble is, with a multitude of these intriguing attractions, it might be difficult to choose. However, top places to visit include:
Morey's Piers & Beachfront Waterparks Wildwood Boardwalk Bay Village Island Beach State Park
When to go in Jersey Shore
Visitors immediately fall in love with the weather on the Jersey Shore. Weather variations depend mostly on continental and oceanic waves. Summer is perhaps the best time to visit the Jersey Shore. Keep in mind that this area can be crowded. Furthermore, traffic can be daunting. especially on weekends. Consider a secluded vacation at the beach, when the water is still warm well after Labor Day. During winter, the Jersey Shore is extremely cold and windy, yet many vacation rentals--especially in Cape May and Spring Lake stay open all year.
Happy vacationing!