Anna Maria Public Beach Location Highlight
Anna Maria Public Beach - Location Highlight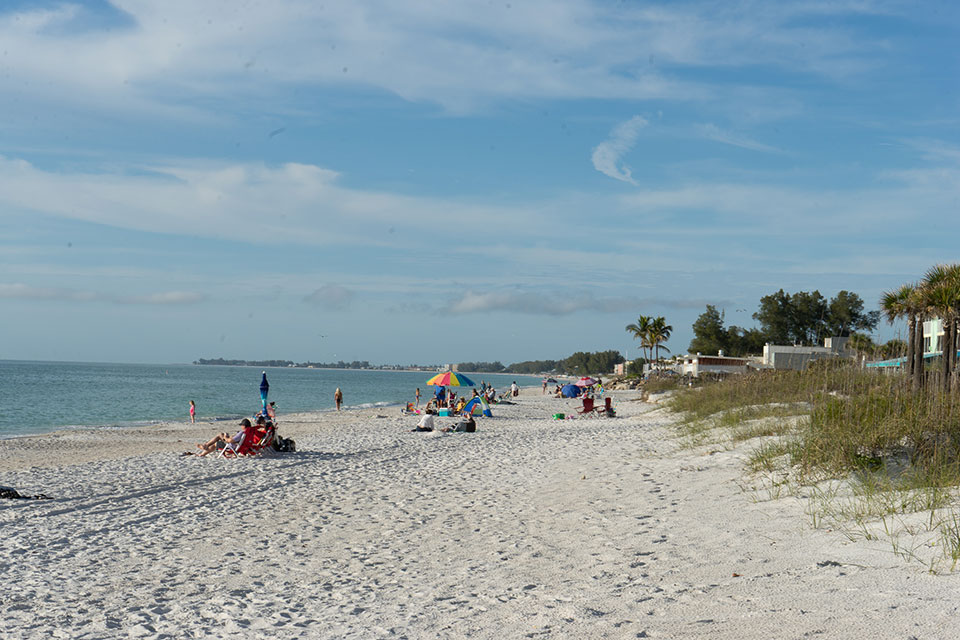 The Anna Maria Public Beach is one of several beaches on the Anna Maria Island. The island as a whole is well-known for having spectacular beaches, and for having an overall laid-back and friendly atmosphere, that is often thought of as an 'Old Florida' charm.
Anna Maria public beach boasts some gorgeous, soft-white sands, and visitors to the island will quickly be brought back to the good old days when they were relaxing with their family and enjoying summer holidays or spring breaks. The Gulf waters are clean and clear, the sand is pristine and the climate rarely disappoints.
The public beach is a bustling and vibrant place, but because there are so many private and resort beaches on the island you are unlikely to find it to be too crowded. The island is quite small, but the outer area is lined with beaches and there are public beach access points all over the island so you are never too far away from sun, sea, sand and fun.
The Manatee Public Beach
The public beach that most people think of as being the 'official' beach is Manatee Public Beach, which is located centrally on Anna Maria Island. It is a part of Holmes Beach and is family friendly and ideal for visitors with children. It is also the home of the Anna Maria Island Beach Cafe, which is the most popular restaurant in the area, and with good reason. You can expect respectable portions of delicious food at a good price and with cheerful service.
The beach has a lot to offer, with lifeguards on duty, calm waters (and plenty of shallow areas where you can go to play with younger children), and lots of spots to go exploring for shells or playing beach volleyball.
The Anna Maria Island trolley service is free of charge and it stops at the public access points so you can get access to the beach without having to worry too much about finding parking. There are plentiful parking spots for those who need them, but it's a joy to be able to just hop on the trolley and let someone else take you there!
If you're looking to visit Anna Maria Island and explore the beaches, then the public beach is a perfect starting point, with:
Bike racks
Cabanas
A playground for the little ones
Picnic tables
Public showers
Plentiful restrooms
Water fountains
Volleyball facilities
Lifeguards in attendance
Numerous dining opportunities
Beach chairs and umbrellas to rent
If you prefer a little extra privacy then there are resort beaches, but there is almost no need to stay in the resorts if the beaches are your main reason to visit because the public beach in Anna Maria is well maintained and a joy to explore. Of course, the entertainment and private amenities on some of the resorts are things that are hard to rival, so depending on the level of luxury you are looking for with your holiday there are certainly benefits to be had.
Anna Maria Island is a little gem off the coast of Florida, and there are so many beaches to choose from. If you want to step away from the crowds of Manatee then be sure to have a look at Coquina Beach as well, which is a slightly less crowded beach with some beautiful biking and walking paths, ideal for those who are looking to get away from it all and spend some time enjoying the sun and the atmosphere of the beach. There are some good spots for swimming too, and again lifeguards are in attendance. There is a trolley stop near this beach too, so you can visit regardless of where your rental is!
Where To Stay
Rather of staying in a restricted hotel area, FindRentals.com has a variety of vacation home rentals on Anna Maria Island to choose from. These lovely houses and condos provide you the chance to enjoy your stay in a home setting while having access to a range of wonderful amentities.