Deadwood South Dakota Travel Guide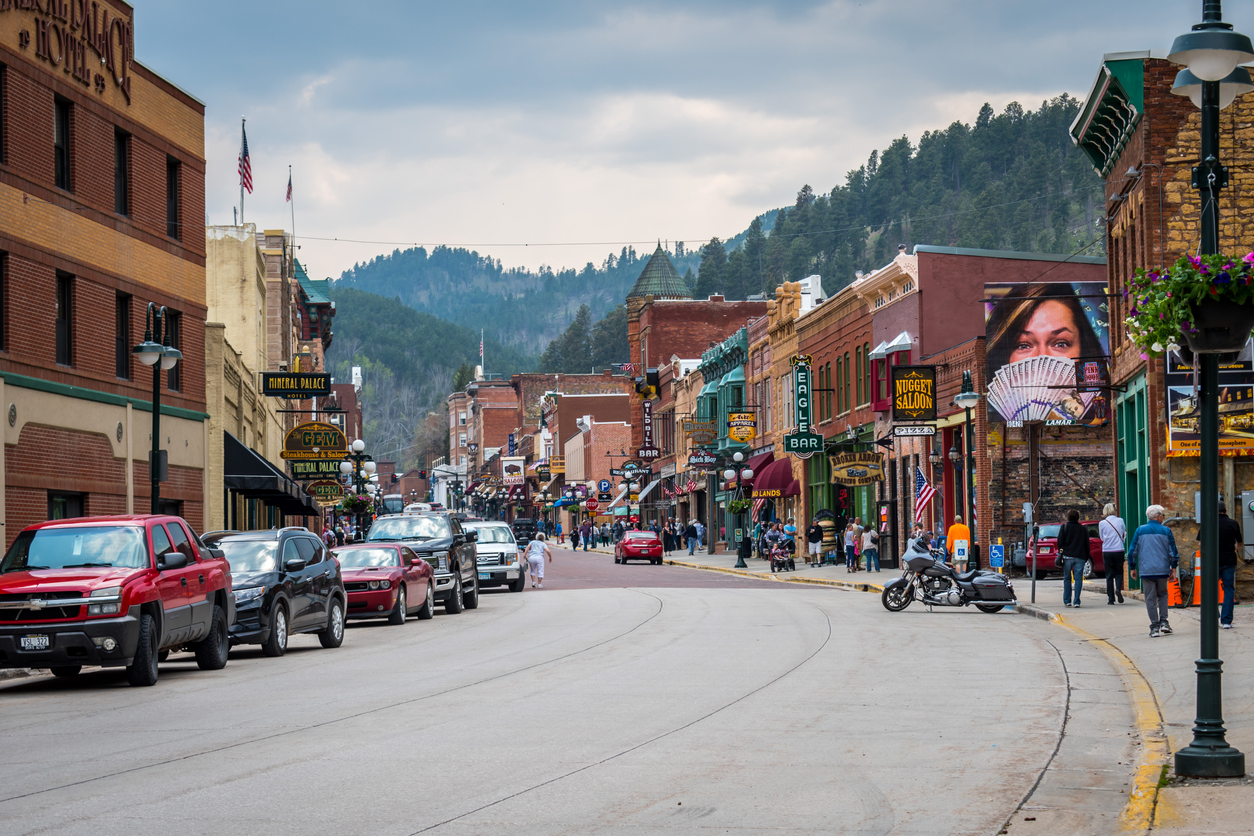 Deadwood South Dakota
Do you remember the days of cowboys and Indians? Let your wild side loose in Historic Deadwood, South Dakota. Located just northeast of Lead and some 40 miles northwest of Rapid City, Deadwood was founded in 1876. Tourism is the major source of income in Deadwood. Notably, the city is a national historic landmark. The Adams Museum displays artifacts on local history, and the Broken Boot Gold Mine offers visitors a chance to pan for gold. Take a tour through this gold mine to explore its rich history and culture.
Things to Do and See in Deadwood
The guests and visitors to historic Deadwood find this vintage city sentimental and charming. In addition, visitors will find remnants of the old wild west without any of the danger. Take a stroll along Main Street to see Old West re-enactors who bring history to life with live drama. Discover how western legends passed on at The Mount Moriah Cemetery, one of the top attractions in the city. The many legends buried here include Wild Bill Hickok, Calamity Jane, and Seth Bullock. Learn more about these wild west personalities. Be sure not to miss exploring any one of the three world-class museums in the city.
The town's Main Street is home to many charming cafés, shopping, and resorts, and casinos. Gaming has been legalized in Deadwood, to a very limited extent. If you enjoy gaming, you will find some lovely options in the resorts in Deadwood. Furthermore, Deadwood offers many colorful events and festivals all year round. These include Wild Bill Days, Kool Deadwood Nites, and much more. Enjoy a fun vacation with no regrets!
---
Book Direct and Save with a Vacation Rental Management Company

Are you planning a vacation to the Black Hills? Deadwood Connections is your Connection to the Black Hills of South Dakota. Deadwood Connections was.. learn more
Map of Deadwood South Dakota
History of Deadwood
The quaint city of Deadwood was founded during the gold rush of 1876 when about 25,000 miners settled in the nearby hills. In 1891, the city's railroad link was completed, and ever since, Deadwood was a regional trading center. Up to the present time, gambling has been a part of Deadwood's rich historical past, but it was prohibited in 1905. The city's gaming hall, which is about 80 in numbers, offers both residents and visitors lively action. In order to increase tourism and earn more funds, locals formed the "Deadwood U Bet" organization. The organization has, with their joint effort, organized legalized limited stakes gaming. This legalized gaming in Deadwood dates back to 1989.
As a result, gaming has helped boost Deadwood's tourism industry and revitalized the local economy. Over the past few years, infrastructure improvements are evident across the city. Meanwhile, Deadwood has turned out to be the largest historic restoration project in the United States. Deadwood is home to about 2000 people.