Galveston Texas Travel Guide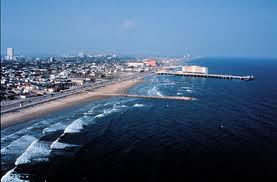 Galveston Texas
Galveston Island is conveniently located right on the coastline of Texas just 50 miles south of Houston. Explore the treasures it has to offer – 32 stretching miles of beaches, relaxed atmosphere, abundant leisurely activities, excellent medical facilities, first-rate restaurants, educational opportunities, numerous attractions and a of course a vibrant historic downtown that offers cruising, shopping, arts and entertainment. Imagine yourself as an Islander living in an elegant Victorian home on a shady, relaxing oak-lined street on the Island's east end, or in a home overlooking the sparkling Gulf of Mexico on the west end. There is a variety of gorgeous rental property to choose from throughout the Island, from apartments to condominiums, high rises, low rises and raised beach homes.
---
Rental Managers in Galveston Texas

Casa By The Sea Vacation Rentals
Casa By The Sea Vacation Rentals - Great vacation homes in great locations, you can see the ocean from the rooftop deck. Each home is two blocks from.. learn more
History
Galveston is part Southern, part Texan, abloom with towering oleanders of every color everywhere you look and has always had more history and stories than cities 20 times its size. Part of what is entrancing and differentiating about Galveston compared to other large cities, is that it is so much a town in its own right, and it always has been. Even today, many residents and visitors refer to it as "The Republic of Galveston Island" because it is so unlike the rest of Texas.
In 1528, when the first Europeans landed, Galveston Island was home to the Akokisa and Karankawa Indians who camped, fished and hunted the swampy land and buried their dead in this area. The Spanish explorer Cabeza de Vaca, meaning "Head of Cow" was shipwrecked on the Island and lived among the Karankawa tribe for several years as a medicine man and slave. In the late 1600's, French explorer Robert Cavelier La Salle claimed this area for King Louis and named it St. Louis.
Galveston was named for Bernardo de Gálvez, a famous Spanish colonial governor and general. Gálvez sent Jose de Evia to chart the Gulf of Mexico from the Texas coast to New Orleans, and on July 23, 1786, de Evia charted an area near the mouth of a river and, hence the name, called it Galveston Bay. Later, the island and city took the same name. Bernardo de Gálvez died the same year, sadly never getting a chance to settle foot on his namesake island.
How can you resist a town whose first known European settler is an adventurous pirate? The cultured and debonair privateer Jean Lafitte established the colony of Campeche on Galveston Island in 1817, numbering only about 1,000 people at its peak. Lafitte was eventually forced to leave (burning the town behind him), and Galveston as we know it was founded by a man named Michel Menard and another named Samuel May Williams, among others. The homes of these early island pioneers are, amazingly enough, left still standing.
As everyone is quite familiar with the old saying, everything is bigger in Texas, but in the nineteenth century, everything in Texas was done first in Galveston. Incorporated in 1839, Galveston quickly became the most active port west of New Orleans and the largest and most thriving city in the state. This exciting and sophisticated city built the state's first post office, first opera house, first hospital, first golf course, first country club and the list goes on and on.
Tourism
Galveston has every accomodation that you would ever dream of, all characterizing a larger and not as personal city, so you would think. Yes, Galveston has all the amenities and accomodations of a larger city, but only with tight-knit small town friendliness. Its ethnically diverse citizens have worked through history together to make their city better since the early days of its founding in 1836. When faced with adversity, the citizens of Galveston have always united to solve whatever obstacles that may arise. Non-profit organizations and community groups offer a variety of volunteer opportunities regardless of your interests or desired area of service.
Map of Galveston Texas