72 Perfect Hours in Los Angeles
How to Spend 72 Perfect Hours in Los Angeles?
Traveling around the United States usually leads people to one of the most famous cities in the world - Los Angeles. Regardless of whether you're traveling with family, friends, or simply experiencing the world on your own, Los Angeles has a plethora of sights to offer.
In fact, there are so many things to see, taste and photograph that no one will be let down. Three days is nothing compared to the sheer size of this magnificent city and its attractions, so make sure you're making the most out of your 72 hours there.
Day 1
The Hollywood Sign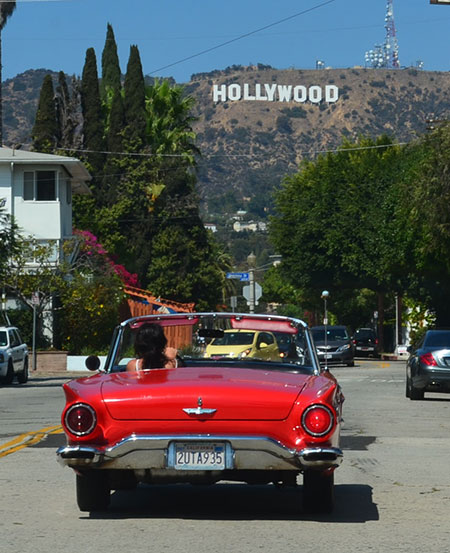 You know you want to visit it, so get it out of your system as soon as possible.
Gaze in awe at the huge sign that you've seen in movies and TV shows a dozen times over. Take a picture there, play with the perspective and make it seem as if you were holding the sign. You know, things that everyone does when they come to Los Angeles.
Now that this is over with, head down to the beach to enjoy a beautiful day, knowing you've already taken care of the most important thing.
Venice Beach Boardwalk
It's quite impossible to experience Los Angeles without heading down to the beach.
Venice beach boardwalk is an excellent place for you to find some entertainment. There are street performers abound, so get ready to see drum circles, mimes, jugglers and plenty of others.
If you get tired of it somehow, drop by the famous muscle beach, or visit one of many shops and bars. This is the best place to spend a warm, sunny LA afternoon.
Santa Monica Pier
The legendary Santa Monica Pier is a sight for sore eyes. It has traveled the world in movies and video games alike, letting the entire world know how beautiful it is.
Pacific Park and aquarium are excellent if you're traveling with kids, and the easy-going Ferris wheel lets you observe magnificent sunsets from a breathtaking vantage point.
Make sure to get to Santa Monica before sunset, and you'll experience real life magic. It's a perfect end to a perfect day!
Day 2
The Getty Center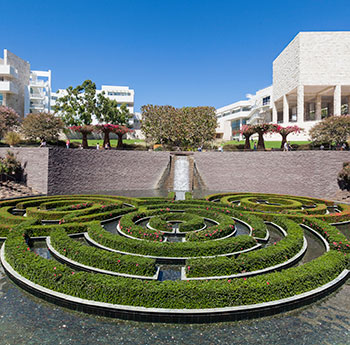 The view from here is incredible. You can see the entirety of Los Angeles in all its glory.
This is due to elevation at which the center resides, which is the reason why you'll need a Getty Center tram. This cable-driven hovertrain takes passengers to the hilltop where the museum lies.
This beautiful campus of an even grander Getty Museum is one of the most frequently visited locations in LA.
Every person calling themselves an art buff will find more than a fair share of masterpieces here.
Outside, there are amazing works of architecture that Getty is well known for. Inside, you will find works of great impressionists such as Monet, Van Gogh, and Renoir.
The Broad
Spend the afternoon at the Broad, a very special museum that hosts post-war art and boasts a very peculiar design. There are many attractions and different exhibits to see here, so make sure to get informed on all of those.
Griffith Observatory
It's time for another gorgeous sunset.
Go up to the Griffith Observatory, this will be your second time today climbing up high. Atop Mount Hollywood, you will find this amazing observatory. When you go inside, make sure to take a look up at the beautiful rotunda ceiling.
There are six sections of the observatory, so make sure to visit each and every one of them. You'll see many breathtaking discoveries and exhibits such as Tesla's Coil and a solar telescope.
The Griffith Observatory is the best place you could be at night!
Day 3
You might want to spend this day at a single location. There are many attractions in LA that are worth spending the whole day there.
Disneyland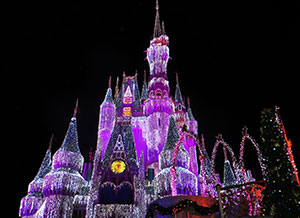 When all else fails, take your family or friends to Disneyland. Fun and excitement are guaranteed, so Disneyland is definitely the best failsafe for your vacation.
There is so much to do and see there that it's easily worth at least a whole day in LA.
While it may seem better suited for smaller children, no one says that adults can't enjoy it, at least for a little while. Keep in mind though that Disneyland is located in Anaheim, half an hour ride from Los Angeles.
Universal Studios
Are you a fan of Harry Potter? If yes, then you'll definitely want to check out the Wizarding World that awaits bright witches and wizards over at Universal Studios.
Of course, this is not the only thing to see here. Universal Studios is a key to many fantasy worlds that have sprung over the last two decades.
It's home to the imagination, and we don't think that you need more reasons to visit it for yourself.
Packing for Los Angeles
Now that you know what to expect, it's time to get packing. You wouldn't want your whole vacation to get off on the wrong foot and have it ruined by airplane-related stress.
When traveling by air, it is very important to plan accordingly and pack efficiently.
With packing, less is definitely more, especially if you travel often.
Besides organizing your luggage properly, make sure to get the right carry-ons that will let you take the important stuff with you, and provide you with added convenience.
Choose one of the 8 best carry-on luggage with wheels for frequent travelers and alleviate all problems that flying brings.
The wheels will also be of great use to your children if they're coming along since they won't have to carry it around.
Places to Stay in LA