San Diego California Travel Guide
Vacation Rentals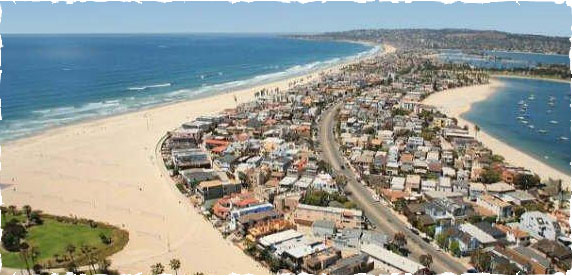 San Diego California
California, home to San Diego, CA, has many large and thriving cities but being its second largest city and the United States' eighth largest city, San Diego hosts a citywide population of nearly 1.3 million residents and more than 3 million residents countywide. San Diego covers an entire space of 4,200 square miles. San Diego County covers the ground of 18 incorporated cities and numerous other charming neighborhoods and communities, including downtown's historic Gaslamp Quarter, Little Italy, Coranado, La Jolla, Del Mar, Carlsbad, Escondido, La Mesa, Hillcrest, Barrio Logan and Chula Vista just to name a few fun and interesting places to visit.
---
Rental Managers in San Diego California
---
San Diego Area California ~ Encinitas
---
---
History
For as early as history can tell, the area that now is occupied by the thriving city of San Diego, California was first inhabited by early hunting tribes that originated in northeast Asia. In order to survive and keep a steady supply of food to themselves and to their families, they followed and stalked herds of caribou, bison, and mammoth across what used to exist, the Bering Strait, giving them a clear and easy path from what seems to be one end of the earth to the other, northeast Asia, to North America. Anthropologists' studies have led them to believe that these human hunting tribes settled in the San Diego area up to 20,000 years ago along the coast of the Pacific Ocean and 12,000 years ago in the scorching desert. These people were later named the "San Dieguito" people. Around 7,000 BC, another people evolved from the San Dieguitos named the "La Jollan" people. Today, La Jolla Beach and tennis club is a close neighbor to a significant archeological site to this time period. By the time the first European settler made his way to present day San Diego, the Yuman and Shoshonean tribes, Native American tribes, were currently occupying the area. September 28, 1542, the first European settler, Juan Rodríguez Cabrillo, came to claim the land of San Diego. He named his intriguing new discovery "San Miguel" and claimed it to be property of the King of Spain. In November of 1602, a new explorer, Sebastian Vizcaíno came to counter claim the land of San Diego as far north along the coast as Oregon. On his journey, he gave many places the names as we know them by today, such as the city of San Diego. To this day, Sebastian Vizcaino's job of naming the area for the Spanish Catholic saint San Diego de Alcalá remains.
Tourism
The most difficult part of planning an exciting and breath-taking San Diego vacation is deciding what to do, what to see and where to go out of all the options that San Diego offers to its daily visitors who are always intrigued with the long list. With infinite options for activities to try, regions to explore, attractions to enjoy and not to mention the beautiful amenities from hotels to lofts to beautifully prepared rental properties and vacation homes in San Diego, you'll always find something new and appealing each time you visit.
San Diego offers every kind of activity that you could ever think of; from world-renowned attractions; unlimited outdoor recreation and fun, a thriving arts & culture community, and award-winning restaurants, you're sure to find a host of things to entertain and inspire regardless of who is coming with you.
But perhaps the best part of a San Diego vacation is doing nothing at all and simply relaxing and escaping from the worries and stresses of every-day life away from your vacation. With 70 miles of endless, beautiful beaches, countless impeccable parks and gardens, and endless opportunities for pampering at one of the areas many spas and resorts, San Diego is an excellent destination for some quality rest and relaxation.
Map of San Diego California