Tahoe Donner California Travel Guide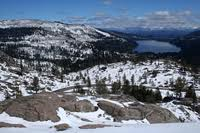 Tahoe Donner California
A vacation to Tahoe Donner is an opportunity to discover a magnificent California ski resort and community with endless outdoor amenities and a lovely local village at your fingertips. Truckee is a friendly conveniently located town providing ambience, great food and nightlife for all who love the outdoors or skiing at the Tahoe Donner or the Northstar ski resort as well. Book your trip and adventure all around this charming town while surely getting a satisfying fill of outdoor fun-all in one.
---
Rental Managers in Tahoe Donner California

Lake Tahoe Accommodations is a professional vacation rental management company that has provided quality Lake Tahoe vacation rental homes and cabins.. learn more
---
Geography/History
Located in the Sierra Nevada Mountains and covering an expanse of 7,000 acres of land, Tahoe Donner is more than a ski resort. Said to be the largest home owners association in the United States, the housing development consists of over 6,500 homes with a population of over 25,000. Tahoe Donner is a unique community occupying the western part of the town of Truckee, California- a community of outdoor enthusiasts, ski aficianados and lovers of Lake Tahoe. The town of Truckee, quaint, unique and full of rich history, bares treasures of its own with charming storefront shopping and dinning, and a variety of spectacular parks fit to cater to all who love sports or recreation under the big blue sky of the Lake Tahoe area. As History tells it-Truckee got its name from a misunderstanding between some travelers in the area and an Indian chief. The travelers were approaching Chief Paiute when they thought he proceeded to yell out his name," Tro-kay!" In actuality, he was yelling out, "Everything is all right." In the mid 1800's the first white settlers from Illinois found themselves stranded in Truckee due to weather and travel misfortune. Known as the Donner-Reed party or Donner Party, they found themselves facing the hardships of uncharted ground in the harshness of winter-struggling desperately for survival-unfortunately making Truckee their final resting place. By 1863, the white settlers were driven to make a way to California's gold so they constructed the Emmigrants Road. About this same time Joseph Gray developed the Log toll-station to assist the stage coach travelers and then followed the lumber yards and railroads. Into the twentieth century, Truckee served those passing through on stagecoach Road turned Interstate Highway 80 completed in 1963. As a result, Truckee grew into a bustling tourist community serving the Lake Tahoe area.
Tourism
Truckee is not without a hefty share of out of town visitors during any season of the year. Donner Lake is awe inspiring throughout the summer months- a perfect locale for hikes and horseback riding. Don't miss out on taking home some amazing pictures taken from the Rainbow Bridge. Fall and winter provide for perfect surroundings for any cabin vacation rental overlooking the lake-bonus-crisp morning walks with the warmth of a fireplace to welcome you back. Truckee shares its goods and charm along the downtown Commercial Row where there are quaint cafes and shops with something for everyone. A hot spot for skiing, Truckee is home to two popular ski resorts: Northstar and Tahoe Donner. Northstar is considered home and training grounds for Olympian Shaun White and the 2014 Olympics. For all we know, this could be breading grounds for a number of future Olympians- whether snowboarding, skiing, swimming or cycling-the Tahoe Donner/Trukee area is a professional's playground for outdoor sports with accomidations to help one just gear up for more.
Map of Tahoe Donner California