North Carolina Mountains, Rolling Hills, Big Cities, Barrier Islands, & Breathtaking Coast
North Carolina Mountains, Rolling Hills, Big Cities, & Breathtaking Coast
North Carolina Full of Diversity
With enough diversity to make your vacation memorable, one of the top places to enjoy the southern hospitality, is North Carolina. The state offers mountains, ocean activities, and cities saturated with intriguing attractions. However, finding wonderful beach houses to rent in North Carolina is pretty easy. With the many vacation home options available, visitors will enjoy an abundance of choices. In order to get the most out of your vacation, one thing is important–finding the ideal place to stay.
On the Atlantic coastline of the United States, North Carolina is just south of Virginia. Rolling hills and valleys, gorgeous mountains, and breathtaking coastline, make North Carolina an intriguing place to visit.
The Appalachian Mountains
Appalachian Mountains stretched for approximately 2,000 miles from the Canadian province of Newfoundland and Labrador to central Alabama in the United States. Divided into three regions–northern, central and southern Appalachia, the southern region features some of the highest elevations. These include Black Mountains and the North Carolina Great Smoky Mountains.
4 Seasons Vacation Rentals & Sales
4 Seasons Vacation Rentals & Sales offers select North Carolina Mountain Vacation Rental Cabins, long-term rentals and property management services. As a full service real estate firm, we specialize as a exclusive Buyer Agency. We can represent your needs in the rental, purchase, or investment in a mountain dream home. Either way you will be able to take in the beauty of the North Carolina Mountains and enjoy some of the area's best accommodations!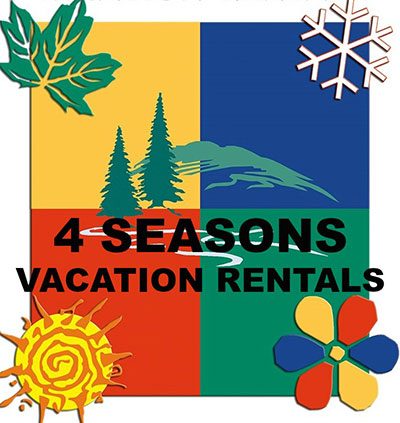 Rumbling Bald Resort on Lake Lure
Rumbling Bald Resort on Lake Lure has been the preferred Blue Ridge Mountain vacation home for golfers, outdoor enthusiasts and nature lovers alike for over 55 years. Located in Western North Carolina near Charlotte, Greenville, and Asheville is an escape, Rumbling Bald Resort. Surrounded by the cliffs of Rumbling Bald Mountain, our 3,000+ acre property is home to a private white sand beach, children's water park, three distinct dining experiences and numerous hiking and biking trails, all tailored for relaxation in our authentic mountain getaway.
Regions in the Area
North Carolina is a state in the United States with three distinct regions–coastal plains, the mountains, and rolling farmlands. The Blue Ridge and Smoky Mountains offers great activities including skiing, hiking, and mountain climbing. Each town in the state displays its own distinct features. For skyscrapers, and the big city life, visit Charlotte. Plan a trip to Raleigh to explore its many museums; and Durham for a wide range of recreational activities. The islands in the Outer Banks are ideal for outdoor activities including fishing, kite-surfing, and sunbathing. By the same token, the beach-side city of Wilmington features abundant water sports activities as well.
Blue Ridge and Smoky Mountains is a place beaming with natural beauty, and complimented by man-made attractions. These include playgrounds for kids, museums to explore, and gardens for a relaxing stroll with loved ones. Equally important, these mountains are also home to some very popular ski resorts. In addition, the nature trails offer options for hiking or peaceful strolls. Immerse yourself in sheer beauty when you visit the Blue Ridge and Smoky Mountains.
Lake Lure, North Carolina
Sitting right in the heart of Hickory Nut Gorge in Rutherford County, Lake Lure, North Carolina is also a pleasant vacation destination. The biggest attraction in the town is the lake itself, both in lake activities and vacation homes. Notably, Lake Lure has been specifically mentioned in National Geographic as one of the most beautiful places to live. Visitor activities include rock climbing, canoeing, golfing, boating, and water skiing. Indeed, Lake Lure is known for its astonishing beauty and gorgeous scenery. With proximity to Lake Lure is the Chimney Rock Party, known in the movie world as the location for filming Last of the Mohicans.
Home to a population of about 1000 residents, and founded by the Morse Family, Lake Lure came alive in the early 1900's. At that time, the Morse Family bought several acres, constructed a dam, and established the Carolina Mountain Power Company. In the period of the Great Depression, they lost both the land and dam in foreclosure. Notwithstanding, the power company never stop providing electricity and continues even to this present time.
Things Not to Miss
Visit the Blue Ridge Mountains in the fall to enjoy great hiking experience and catch stunning views of the amazing fall foliage. Plan a trip to Asheville, a small town brewery cities in the country to sip a craft beer. And finally, we suggest booking a vacation home in the area for a truly relaxing getaway.
More Information About North Carolina Vacation Rentals North Carolina Area Rentals Outer Banks, N.C. North Carolina Coastal Area Ocean Isle Beach Area Properties