Robinson Preserve Bradenton Florida
Exploring the Natural Wonders of Robinson Preserve: A Paradise for Nature Enthusiasts and Outdoor Adventurers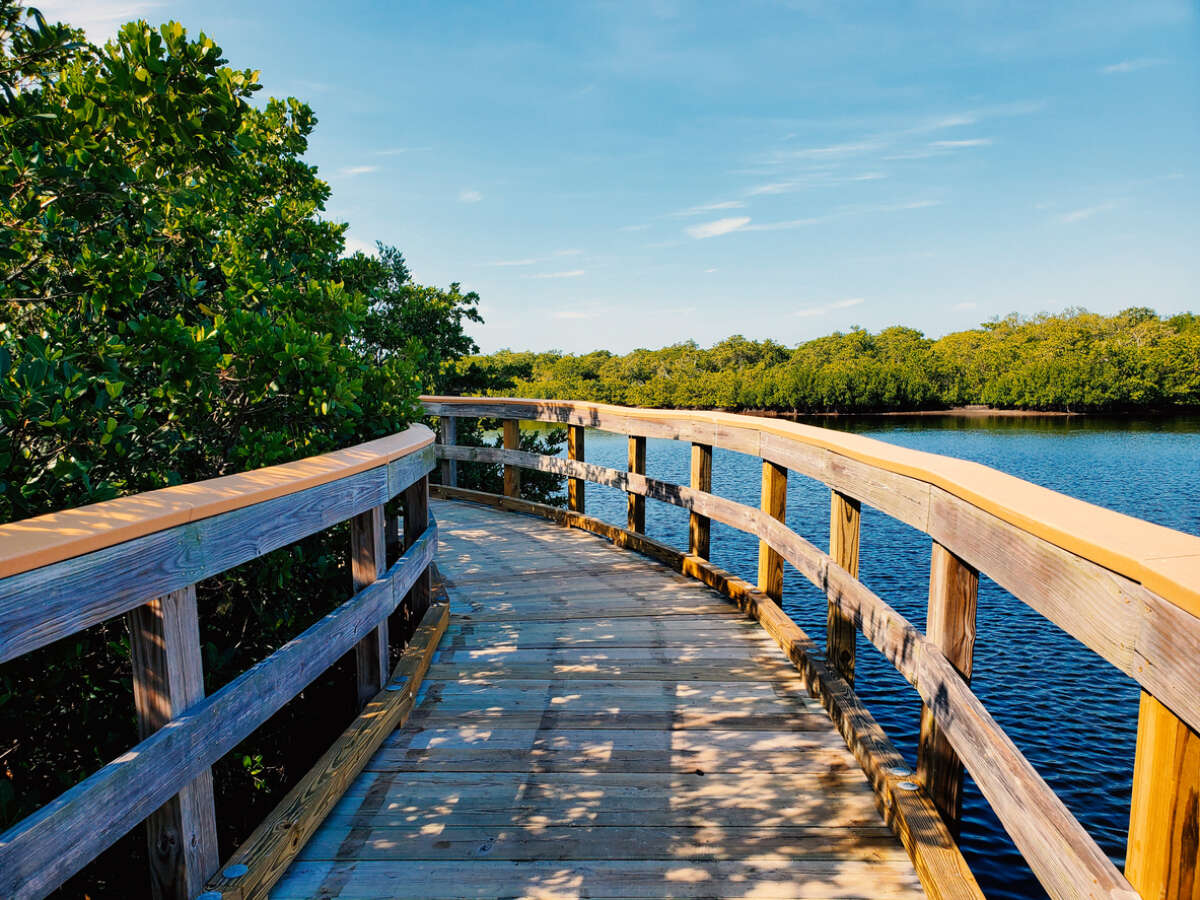 Nestled in the heart of Bradenton, Florida, and perfectly located near both the Sarasota Area and Anna Maria Island Area, Robinson Preserve is a hidden gem for those seeking a tranquil escape into nature. Spanning over 487 acres, this stunning preserve offers a diverse range of ecosystems, including marshland, mangroves, and densely forested areas. Whether you're a birdwatcher, a hiker, or simply someone looking for some peace and quiet, Robinson Preserve promises an unforgettable experience. Unveiling the Beauty of Robinson Preserve: The journey into Robinson Preserve begins with its picturesque entrance, featuring a large paved parking lot and the iconic welcome archway. As you traverse the well-maintained trails, you'll be welcomed by an ever-changing landscape that presents an opportunity to witness the enchanting beauty of Florida's flora and fauna up close.
Exploring the Trails
Robinson Preserve offers over 7 miles of trails, suitable for both beginners and seasoned hikers. The trails are clearly marked, allowing visitors to navigate through the preserve with ease. One of the most popular paths is the 2.5-mile-long Estuary Trail, which takes you on a scenic adventure through tidal marshes and mangroves, providing an excellent opportunity for birdwatching and wildlife spotting. For those seeking a more extensive hike, the 6.5-mile-long Preserve Trail showcases the preserve's breathtaking beauty in its entirety. This trail meanders through diverse habitats, including prairies, hammocks, and coastal areas. Along the way, you'll encounter various wildlife, such as herons, egrets, turtles, and even the occasional otter or manatee.
Birdwatching Paradise
Robinson Preserve has gained a well-deserved reputation as a haven for ornithologists and bird enthusiasts. With its prime location along the Gulf of Mexico, the preserve serves as a vital stopover for migratory birds. Over 200 species have been recorded here, making it a significant birdwatching destination in Florida. The observation tower, strategically located within the preserve, offers panoramic views of the surrounding wetlands and tree canopies, providing an ideal vantage point from which to spot unique and rare bird species. Visitors can expect to witness beautiful herons, ibises, ospreys, and even the elusive roseate spoonbill in their natural habitat.
Wildlife Encounters
In addition to its abundant birdlife, Robinson Preserve is home to a diverse array of wildlife. Keep an eye out for the shy and elusive bobcat, which occasionally roams the preserve's dense forests. Other common sightings include raccoons, river otters, and various species of turtles and snakes. If you're lucky, you may even come across the magnificent West Indian manatee grazing near the preserve's shoreline. These gentle giants can often be spotted during the cooler months, seeking refuge in the warm waters of the Gulf of Mexico.
Kayaking and Paddleboarding
For adventurers looking to experience Robinson Preserve from a different perspective, the preserve offers an opportunity to explore its waters by kayak or paddleboard. The tranquil waterways, winding through mangroves and tidal creeks, create an idyllic backdrop for a peaceful day on the water. Kayak and paddleboard rentals are available within the preserve, allowing visitors to embark on a self-guided journey through the mangroves. As you paddle through these serene waterways, keep an eye out for shorebirds, stingrays, and fish swimming alongside you. It's an experience that truly immerses you in the natural beauty of Robinson Preserve.
Educational Programs and Environmental Initiatives
Robinson Preserve not only serves as a recreational space but also as an educational hub for environmental awareness. The preserve offers a variety of educational programs and guided tours, catering to both adults and children. For those interested in learning about the rich biodiversity and conservation efforts within the preserve, guided nature walks are available, led by knowledgeable naturalists. These walks provide an opportunity to gain insights into the delicate ecosystems, sustainable practices, and the preservation efforts in place at Robinson Preserve. Furthermore, the preserve actively participates in environmental initiatives, such as salt marsh restoration, invasive species removal, and habitat enhancement projects. Visitors can witness the impact of these initiatives firsthand and learn about the importance of preserving and conserving natural habitats for future generations.
Conclusion
Robinson Preserve perfectly encapsulates the beauty and diversity of Florida's natural landscapes. It offers a refuge for both nature enthusiasts and outdoor adventurers, providing endless opportunities for hiking, birdwatching, and immersive experiences amidst its breathtaking scenery. Whether you're meandering along the trails, birdwatching from the observation tower, or kayaking through mangroves, Robinson Preserve is a sanctuary that allows visitors to reconnect with nature and gain a deeper appreciation for the delicate ecosystems that exist right on our doorstep.
Additional Bradenton Florida Area Articles
--- Anna Maria Island Dolphin Tours
by Jamel Richardson Bayfront Park Beach in Anna Maria Florida
by Jamel Richardson AMI Paddleboard and Kayak Adventures
by Jamel Richardson
---