Vacation Rentals in Folly Beach South Carolina
BOOK DIRECT
Avoid costly fees and gain in service by dealing directly with the Vacation Rental Management Company.
The Vacation Rental Properties listed below are professionally managed by Vacation Rental Management Companies who know the Folly Beach area.
Vacation Rental Management Companies provide local hospitality, professional rental services, and the very best in rates and availability while managing vacation rentals that are safe for you and your family. They will assist you in finding the perfect rental property for your vacation.
---
TRENDING IN FOLLY BEACH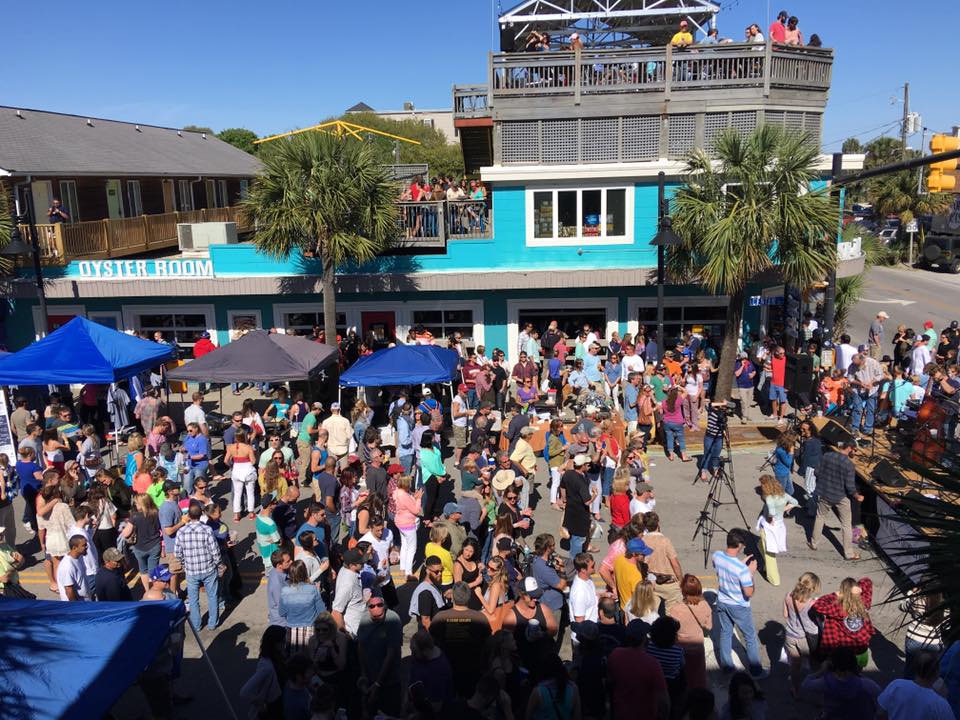 Folly Beach Sea & Sand Festival
by Anthony Vaarwerk
---
Enjoy Your Next Vacation In One Of Our Folly Beach Rentals
Folly Island is a small barrier island located near Charleston, South Carolina. On that island is a beautiful city known as Folly Beach. It stretches for 18.9 square miles and is often referred to as "The Edge of America". Folly Beach is an incredibly popular town for people on vacation. The surfing near the beach is regarded as some of the best in the country. If you enjoy the idea of spending a few days in a lively beach town, then Folly Beach rentals can help make that dream a reality.
Accommodations
At FindRentals.com, we work closely with vacation property managers across the country to ensure we always have a robust listing of vacation rentals in all of the best destinations. Of course, this applies to Folly Beach South Carolina, one of the most beautiful beach towns in the country. We currently have more than 200 vacation rentals available in the area and we are always adding more. Our goal is to collect, organize, and present the listings for the best vacation properties in the area. Our online catalog contains listings from dozens of different property manages.
We don't have a bias for any particular realty company or property manager. This means that the customer is always guaranteed the best possible deal. It also means we display one of the largest collections of vacation rentals you can find in one place. That makes it possible for you to select the vacation rental that is perfect for you. Do you want a four bedroom rental with a pool? Or perhaps you would prefer a small cabin-like rental near the edge of the water. We can help you find the best possible rental and one that fits within your budget. All that you need to do is visit our website and type "Folly Beach South Carolina" in the search section. You can also input other criteria like your rental period. Here are some examples of our Folly Beach listings in various categories.
2 Bedroom Vacation Rentals
We currently have more than 30 unique 2 bedroom vacation rentals available in the Folly Beach area. 2 bedroom rentals are often the perfect choice for a small family or a pair of couples taking a vacation together. The rentals feel cozy while still offering enough privacy. And, of course, they make a budget-friendly alternative to larger rentals. One of our most popular 2 bedroom rentals is a 2 story home located right on the beach.
It has decks on both floors and all of the amenities you would expect from an upscale rental. That includes high-speed wireless internet, a large collection of appliances, cable television, a washer and dryer, and a private hot tub. Another great 2 bedroom rental in the area is built away from the beach and instead along the banks of the vacation home rental. It is a fairly large cottage-style home that perfectly combines a rustic appearance with more modern décor.
Its position along the lake makes it a great rental opportunity for people who want to fish during their vacation. Both of these 2 bedroom vacation rentals are great options, but they are only a drop in the bucket compared to what all is available on the FindRentals website. They are also in serious demand so you might want to book your stay before someone else steals the dates.
3 Bedroom Vacation Rentals
The 3 bedroom rentals in Folly Beach tend to be slightly more popular. They offer enough additional room that you can allow other guests to tag along. Meanwhile, the price doesn't differ greatly from a luxurious 2 bedroom rental. It's the perfect choice if you want to invite some in-laws or friends from work. We have many 3 bedroom Folly Beach vacation rentals available. One of them is located in the Turtle Bay neighborhood and is newly remodeled. It has a beautiful view of the river, a large screened-in porch, and is directly adjacent to the neighborhood pool.
On the inside are three bedrooms and three baths. The master bedroom features a king sized bed, a walk-in shower, and an uncovered balcony. If you'd prefer to leave the neighborhood and rent a property near the beach, then we have plenty of rentals for you. One such rental is a 3-bedroom 3-bath condominium that overlooks the ocean. It's in an ideal location for tourists due to its close proximity to the beach, a golf course, restaurants, and numerous boutique shops. This particular property is packed with amenities, including access to 2 swimming pools, a private Jacuzzi garden tub, and all of the appliances you'll need to vacation comfortably.
Large Group Vacation Rentals
Sometimes 3 bedrooms are just not enough. If you want to bring the entire family, a lucky friend from work, and the girl you've been dating for the last six months, then you're going to need a larger rental. We have plenty of options available at FindRentals. That includes 4, 5, 6, 7, 8, and 9 bedroom rentals. Some of the largest rental properties we have in the area can comfortably sleep 16 guests.
One of our large group rentals is located right next to a great surf spot. It has a total of 7 bedrooms and it can comfortably sleep 14 guests. There are six full bathrooms split between the two floors. There's also a walkway that leads directly from the home to the beach. It's the perfect spot for a large family vacation on the beach. Another very popular rental in the same category is located just down the street.
It has a circular design that is unlike anything else in the town. There is plenty of floor space and a lot of windows with great views. There are 5 bedrooms, 3 full bathrooms, and it can comfortably sleep 10 guests. The kitchen is massive with a large table that can seat 8 people and a nearby bar with plenty of stools. You can cook inside or take your food out to either of the two grills located on the property.
Ocean And Beachfront Vacation Rentals
One of the best things about renting a vacation property in a beach town is that you can enjoy a house overlooking the beach. Actually living in one of these houses is a far away dream for many people, but that doesn't mean they can't enjoy it for a few days or weeks during the summer. We have a massive selection of ocean and beachfront vacation rentals with any number of rooms you might need and within a wide budget range.
One of the largest Folly Beach vacation rentals we have available is a beautiful oceanfront property. It has 7 bedroom and 4.5 baths. There are two living rooms and two kitchens that come stocked with supplies, refreshments, and appliances. The screen porch has a picnic table and amazing views of the ocean. Another luxurious option is found nearby on West Ashley Avenue. It is slightly smaller with only 6 bedrooms and 6 bathrooms.
With the ability to sleep 15 guests it's a great choice for a large outing. Three of the six bedrooms have king beds. There are two large decks that both face the ocean. You would also be in close proximity to a number of attractions, such as the county park and several restaurants.
Explore The Area And See Charles Harbor
There are so many activities and places to visit in Folly Beach that you can easily spend your entire vacation without taking the time to actually explore the area. You should take a few hours out of your day once you arrive and simply drive around the city and maybe even visit a few other parts of the island. The scenery everywhere is spectacular and you'll run into countless photo opportunities. Make sure to stop and enjoy the sights at the Charles Harbor while you're there.
Check Out Charleston City Market
The Charleston City Market isn't exactly located in Folly Beach, but it's a short 25-minute drive that is worth making. This historic market was established in the late 18th century. It's located near numerous historic landmarks like the Historic Market Hall, a building that is said to have the "highest architectural design quality". The City Market was intended as a replacement for the previous beef market building that burned down in the fire of 1796. Whether you visit for the historic scenery or the unique shops, it's a must-see destination.
Where To Go
Folly Beach Pier
Ready to try your luck at saltwater fishing? Then the Folly Beach Pier is a great place to visit while you're on vacation. It stretches for an impressive 1.045 feet into the ocean. It is 25-feet wide and it stands at 23-feet above sea level. It is actually the second longest fishing pier on the East Coast of the United States. Not only is it a great place for fishing, but it also plays host to numerous events throughout the year. Many of the Folly Beach vacation rentals available on our site are located within close proximity to the pier. Some of them are even within walking distance.
Folly Beach County Park
The Folly Beach South Carolina county park is nestled perfectly between the ocean and the Folly Beach River. 200 feet of the park ride alongside the river and 2,500 feet are alongside the ocean. There is 600 feet of beach property with plenty of swimming areas and lifeguards on duty. The park has many amenities, including a snack bar, a boardwalk, restrooms, dressing areas, and showers. Again, many of our vacation rentals are located near the park.
Folly Island
You don't have to spend your entire vacation on the beach. There's an entire island just waiting for you to explore it. You might just find some of your favorite spots are located away from the beach towards the heart of the island. This island is only around 7-square miles, which makes it small enough to explore in a single day, yet large enough to have a few secret gems worth discovering. There are plenty of historical landmarks on the island due to its location and important role during the Civil War.
Lighthouse Inlet Heritage Preserve
Perhaps one of the best beachfront destinations on Folly Island is the Lighthouse Inlet Heritage Preserve. This small park is located in the northeastern section of the island and is known for its view of the inlet and Morris Island lighthouse. It also has a paved hiking trail that leads from the park's gate to the beach. There's plenty to do once you have your toes in the sand. You can enjoy the view of the lighthouses, test your surfing skills, or observe the variety of wildlife in the preserve.
Morris Island Lighthouse
Located on a small island near the Lighthouse Inlet Heritage Preserve, the Morris Island Lighthouse is an important landmark that has been standing for hundreds. It was originally a colonial lighthouse that was given to the Federal Government in the late 18th century. It was repaired around a decade later and enjoyed numerous upgrades over the following century. There was once several buildings surrounding the lighthouse, but they were destroyed by Hurrican Hugo in 1989. The lighthouse is no longer in service, but it is still an impressive landmark that can be viewed from many of the nearby rentals.
Secessionville Historic District
The Secessionville Historic District exists partially in Folly Beach as well as nearby Charleston. These areas played important roles during the Civil War. The historic district encompasses several landmarks, including the remains of a fort, the graves of hundreds of soldiers, and the homes of wealthy planters. It was also the location of the Battle of Secessionville where the Union was defeated when attempting to capture Charleston.
Questions People Also Ask
How Far Is Folly Beach From Savannah?
Folly Beach South Carolina is located 113.8 miles from Savannah Georgia. That's a trip of roughly 120-to-180 minutes.
How Far Is Bald Head Island From Folly Beach?
Bald Head Island is located off the coast of North Carolina. It is exactly 177.3 miles from Folly Beach, SC. In a car, that will take between 240 and 300 minutes.
How Far Away Is Folly Beach From Charleston?
Charleston, SC is actually very close to Folly Beach. There's only a distance of 11.5 miles between the two. Many people who vacation in Folly Beach also take the time to visit Charleston and view its many historic landmarks.
How Far Away Is Folly Beach From Charleston Airport?
If you take a plane to Folly Beach, then you might land at the Charleston International Airport. It's only a short distance of 22.4 miles from the beach. That should take roughly 30-to-40 minutes, though you should take it slow and enjoy the scenery.
What Is The Water Temperature At Folly Beach?
Water temperature varies throughout the year, but it is typically very warm with accompanying warm air temperatures. Water temperatures peak near 86 degrees Fahrenheit during the hottest months of the year. At its coldest, the water can drop close to 60 degrees Fahrenheit.
When Is Folly Beach Festival?
Each year, Folly Beach celebrates the annual Sea & Sand Festival. This festival may change dates on certain years. In 2019, the festival will take place on September 21st.
How Far From Edisto Island To Folly Beach?
Edisto Island is also located in South Carolina south of Folly Beach. It is exactly 52 miles from Edisto Island to our Folly Beach rentals.
Where to stay around Folly Beach South Carolina
Our March 2023 property listings offer a selection of 65 vacation rentals near Folly Beach. Find a unique house rental for you to enjoy a memorable stay with your family and friends. The best places to stay near Folly Beach for a holiday or a weekend are on Find Rentals.
Where are the best places to stay in Folly Beach?
Whether you're traveling with family or friends, here are the areas with the largest selection of vacation rentals for a holiday trip or just for a weekend in Folly Beach:
Sea Islands South Carolina: 516 vacation rentals
Myrtle Beach Area - The Grand Strand: 109 vacation rentals
For nearby neighborhoods, please use our search to access the selection of vacation rentals available in and around Folly Beach.
What are some fun things to do in Folly Beach?
Find Rentals offers a selection of vacation rentals near parks and other areas of interest in Folly Beach. Some of the most popular places to visit while you're traveling in Folly Beach while on vacation are Folly Beach Pier, Wave Watch Playground, The Bark Park, Folly River Park and a few more.
There are many other points of interest around Folly Beach listed on Find Rentals where you can find a great place to stay. Try out the search to find a large selection of vacation rentals available near the city or region you're traveling to.
Which vacation rental managers have properties for rent in Folly Beach South Carolina?
Fred Holland Realty: 65 vacation rental properties
Can I rent homes in Folly Beach?
Yes. Find Rentals has 49 homes available for rent in Folly Beach. Our other popular types of vacation rentals in Folly Beach include:
Condos : 14 rentals available
Apartments : 5 rentals available
Townhouses
Can I rent fishing rentals in Folly Beach?
Absolutely, Find Rentals has 5 fishing rentals in Folly Beach. You have also many other possibilities in Folly Beach area, including:
Please use our search bar to access the selection of vacation rentals.
How can I find a vacation rental manager in Folly Beach?
Find Rentals is the premiere guide for Vacation Rental Managers. We work with management companies from all over the world to provide you with the most robust selection of professionally managed rentals. Use the search to access the selection of management companies and rentals available.
---
Folly Beach and Sea Islands South Carolina Vacation Rentals
---
cheap vacation rentals in folly beach
vacation rentals folly beach
folly beach vacation rentals
vacation rentals in folly beach
wheelchair accessible rentals folly beach