Kona Coast Big Island Hawaii: Travel Guide and Vacation Rental Accommodations

Kona Coast Hawaii
What is the Kona Coast?
The Big Island is separated into six regions: Hilo, Kohala, Hamakua, Kau, Puna, and Kona. Kona is a large region that takes up approximately ⅔ the entire western coastline of Hawaii. Kona is also home to vastly different landscapes like; beaches, plateaus, ocean cliffs, forests, lava deserts, volcanoes, and even the polar tundra at the snow-peaked summit of Mauna Kea. Kona Coast has different locations and activities that everyone can enjoy.
The coast is home to rich historic landmarks like Ahu'ena Heia, the religious temple that served King Kamehameha throughout the final years of his life, Coffee farms to explore and sample 100% Kona Coffee in upland towns like Holualoa, forests, like the Kona Cloud Forest Sanctuary, and endless beaches from the northern Kohala coast to the South Kona district. Kealakekua Bay is a popular beach on the Kona Coast for water activities and spotting marine life because of all the conservation efforts.
Hawaii is indeed one of the best places on Earth to spend a relaxing vacation. And one of Big Island's pride is the Kona Coast. This region is filled with history and natural beauty. Experience Kona Coast's wonderful gift by visiting Kailua-Kona Village, Holualoa, Kaloko Honokohau National Historical Park, Kona Coast Kekaha Kai State Park, and Keauhou.
If you're planning to vacation in Hawaii visit the Kona Coast, take note of these incredible vacation destinations along this coast.
---
Book Direct and Save with a Kona Coast Vacation Rental Management Company

We offer Hawaii Vacation condo rentals on all islands...from moderate to Luxury, Oceanfront Condos. Our friendly staff members are destination experts.. learn more

Kona Coast Vacations is the result of a dream of its two hardworking founders, who saw the potential for a higher standard in vacation rentals. Where.. learn more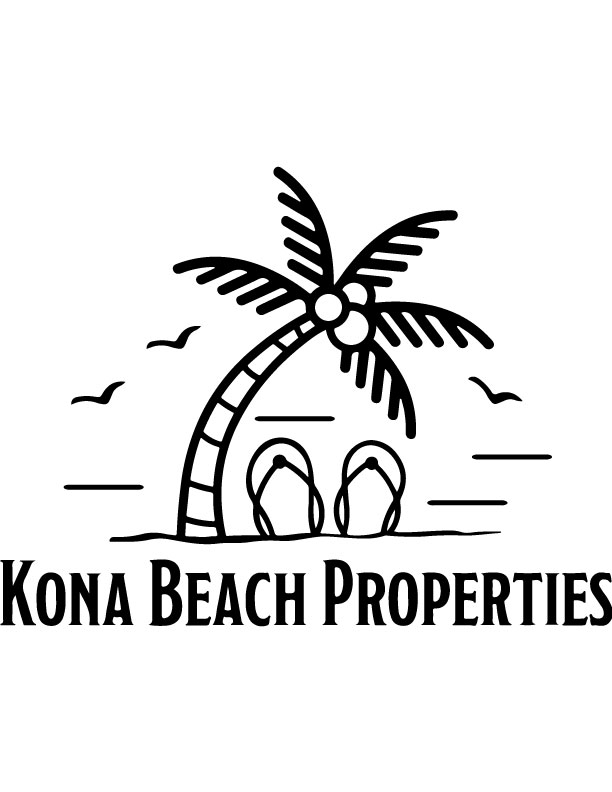 Kona Beach Properties is a Full-Service Residential Property Management Company that specializes in Vacation Rental Management. We manage.. learn more
Top 5 Places to Visit along the Kona Coast on the Big Island of Hawaii
1. Holualoa
For coffee lovers, Holualoa is the perfect place for you to visit on the Kona Coast. This highland has rich volcanic soil and constant cloud coverage, which are perfect for growing the best-tasting Kona coffee. Here you can find approximately 600 coffee orchards where you can take a tour and take a sip of this most-prized commodity of Hawaii.
The best time to visit Holualoa is November since this month is the annual celebration of the coffee and art festival. During this festival, Kona's coffee farmers and artists showcase their best coffee beans and handicrafts.
2. Kona Coast Kekaha Kai State Park
This 1,600-acre state park boasts three spectacular beach areas: the Mahaiʻula Bay, Maniniʻowali Bay, and the secluded Makalawena beach at Puʻu Aliʻi Bay. The lovely white-sand beaches and pristine cerulean waters are what people love in this part of Kona Coast. You can also find freshwater springs here and see the famed honu or Hawaiian green sea turtle.
3. Kailua-Kona Village
In the heart of the Kona Coast is the beautiful Kailua-Kona Village. Before, the town was a favorite vacation place of the Hawaiian royal family. Now, it's a vibrant seaside town with a number of dining establishments, shopping areas, and first-rate accommodations.
While modern buildings are easily noticeable in this town, there are also pieces of history that seek your attention. Along the Alii Drive, for instance, you can find two historically important sites, the Mokuaikaua Church and the Hulihee Palace. Also, don't forget to go to Kailua Pier if you want to witness a stunning sunset scene.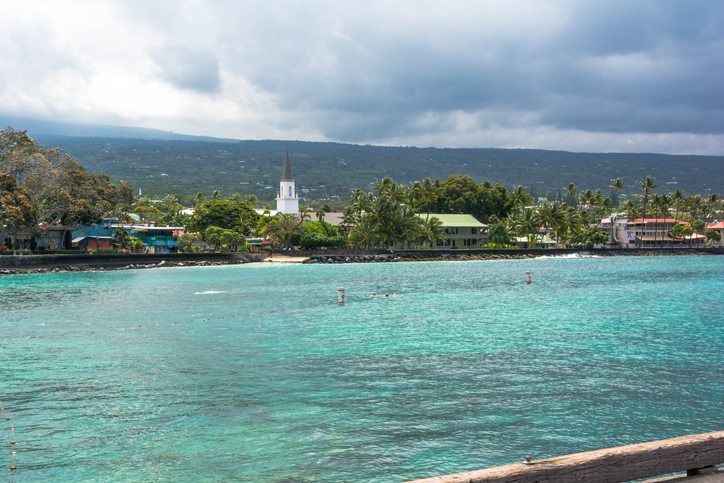 4. Keauhou
Keauhou is both a resort area and a cultural hotspot in Hawaii. It's located on the border of Kahaluu Bay and Holualoa. If you're at the Historic Kailua Village, you take a short drive south to reach Keauhou.
The alluring waters of Keauhou and its irresistible tropical weather both contribute to make your vacation extra special. Visitors enjoy activities like kayaking, scuba diving, and snorkeling in this place. There are also various historical sites and temples here.
5. Kaloko Honokohau National Historical Park
This national historical park provides you a glimpse of the life and culture of early Hawaiians. For instance, there are remnants of ancient settlements, petroglyphs (ki'i pohaku), and sacred temples (heaiu) that you can explore when visiting this place.
Another attraction is the two impressive fishponds showcasing the engineering prowess of native Hawaiians. You can also discover Hawaiian monk seals, native birds, and Hawaiian green sea turtles in the park.
Additional Things To Do along the Kona Coast Big Island of Hawaii
Farm Tours
Plantations, farms, and animal sanctuaries are a popular tourist attraction in the Kona Coast. Farm and Plantation tours are a great way for visitors to tour the land while sampling different foods. Kona is home to many farms (coffee, vanilla, honey, chocolate, etc.). Greenwell Farms Coffee Farm has a popular tour that includes samples of delicious Kona Coffee. Kona also has seahorse and octopus farms for those interested in seeing unique marine life, as well as a parrot sanctuary and excotic animal factory.
Manta Ray Night Dive or Snorkel
The Manta Ray Night Dive is a great option for visitors who are certified in scuba diving and want to swim with the manta rays. No need to be concerned, manta rays have no stingers! The Manta Ray Night Snorkel is a better family option where everyone swims above the manta rays and looks down at them.
See Ancient Petroglyphs
The Waikoloa Petroglyph Reserve and the Puako Petroglyph Park are both in Kona and are home to ancient lava rock carvings that date as far back as the 16th century. Petroglyphs are rock carvings (rock paintings are called pictographs) made by pecking directly on the rock surface using a stone chisel and a hammerstone. When the desert varnish (or patina) on the surface of the rock was chipped off, the lighter rock underneath was exposed, creating the petroglyph.
The Puako Petroglyph Park is hundreds of acres long and contains over 3,000 engravings. Waikoloa Petroglyph Reserve has petroglyphs scattered on the lava rock along a section of the King's Trail in Kona. Although the meanings of these engravings are unknown it is popular belief that the Native Hawaiians used rock carvings as a way to record significant events.
Luaus
Luaus are celebrations native to Hawaiian and Polynesian culture that have been going on since the early 1800's. The idea is to honor the gods by giving bounty to your friends and family. In the present day, Hawaiian luaus are large feasts with cultural performances, music, and storytelling. The Royal Kona Luau is a popular option for visitors looking to experience a Luau on the Kona Coast.
Outdoor Activities
With Hawaii's tropical climate the outdoor activities at your disposal are endless. The Kona Coast has a lot of great excursions to places like Hawaii Volcanoes National Park where tourists can see black sand beaches, waterfalls, and large volcanoes. There are also many amazing hikes that travelers can embark on like the easier hike along the cliffside of Kealakekua bay or a more challenging hike to the 14,000 foot summit of Mauna Kea. There are beautiful golf courses with panoramic views of the Kona Coast for those interested in golfing. Visitors can also horseback ride along the coastline beaches of Kona, take helicopter tours, go deep-sea fishing, visit the botanical gardens, camp, zipline, atv, and much more.
Water Activities
If you want to try out surfing there's no better place than Hawaii. Hawaii is the birthplace of surfing and the Kona Coast has day lessons available on most beaches, as well as surf schools that you can sign up for if you're interested in trying a new activity on the Kona Coast. Paddle boarding is another water worldwide sport with Hawaiian heritage. Paddle board lessons are a popular activity and rentals are available for those who do not need lessons as well. Other popular water activities include snorkeling, scuba diving, fishing, boat tours, and whale watching.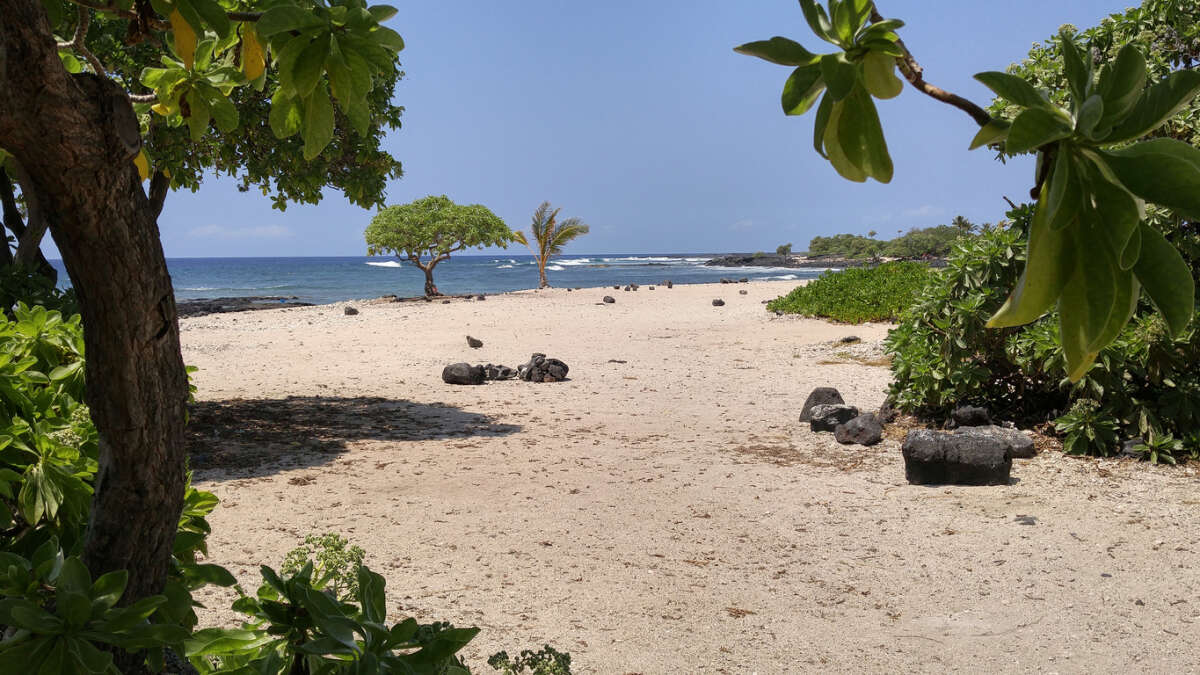 Beaches
Kona Coast is home to some of the most beautiful beaches in Hawaii. Kona is along ⅔ of the western coast of Hawaii so there are endless beaches for visitors to choose from. Kealakekua Bay is the largest bay on The Big Island and it's home to abundant marine life. Although the "beach" is a rock beach, the water is crystal clear, which makes Kealakekua Bay a very popular destination for snorkeling, and scuba diving. There is a spectacular coral reef, home to many tropical fish, which can be seen all around due to the Marine Conservation districts efforts in Hawaii. Dolphins are also frequent Kealakekua Bay visitors! There is also a hiking trail along the coast of the bay with beautiful views and historical and archaeological sites. Kekaha Kai Beach Park, formerly referred to as Kona Coast State Park is a great option for those looking to sunbathe on the white sand and swim in crystal clear waters.
The Kona Hawaiian Quilt Museum and Gallery
The Quilt Museum and Gallery is home to the original Hawaiian flag quilt and attracts a lot of tourists every year. The Kona Hawaiian Quilt Museum and Gallery puts on special exhibits all the time, so be sure to check out exhibits they have going on while you're in Kona. The museum and gallery is a representation of Aloha culture and an important stop if you're looking to submerge yourself into Hawaiian culture.
Hulihe'e Palace
The most see places for our history buffs! First on the list is Hulihe'e Palace. The palace was completed in 1838 and was later converted into a museum. The palace is located in Kailua-Kona and has artifacts of King Kalakaua and Queen Kapiolani. Hulihe'e Palace also contains Koa wood furniture, portraits, and old hawaiian quilts. The construction of the palace was overseen by Kuakini, the same man who oversaw the construction of the Mokuaikaua Church..
The Mokuaikaua Church
This is the oldest Hawaiian Church. The Mokuaikaua Church was completed in 1838 by Boston Missionaries. The outside of the church is built out of lava rocks, and the best part is that worship still takes place at the Mokuaikaua Church at 9AM and hymns at 11AM.
Ahu'ena
Ahu'ena is another popular destination for tourists looking to learn about Hawaiian culture. Ahu'ena was just recently restored and is the temple that served Kamehameha The Great when he returned to the Big Island in 1812.
Pu'uhonua o Honaunau National Historical Park
Pu'uhonua o Honaunau National Historical Park is a historical landmark because it was a place where people who broke Kapu laws (punishable by death) could seek refuge here. Pu'uhonua o Honaunau is surrounded by ancient stone walls with temple platforms and structures from Old Hawaii. Pu'uhonua o Honaunau National Historical Park has self-guided and phone narrated tours for those looking to hear about the history while walking the 0.5 mile trail.
Map of the Kona Coast Big Island Hawaii
Additional Big Island Hawaii Articles
---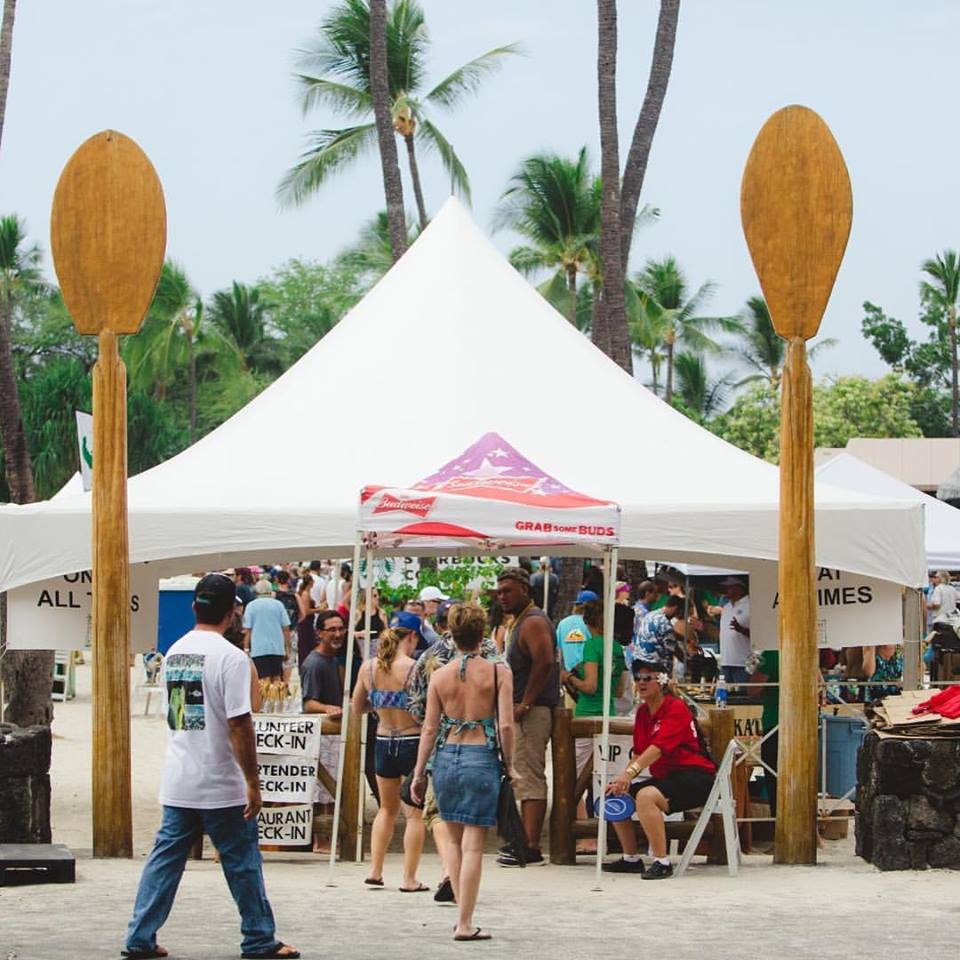 Kona Brewers Festival
by Find Rentals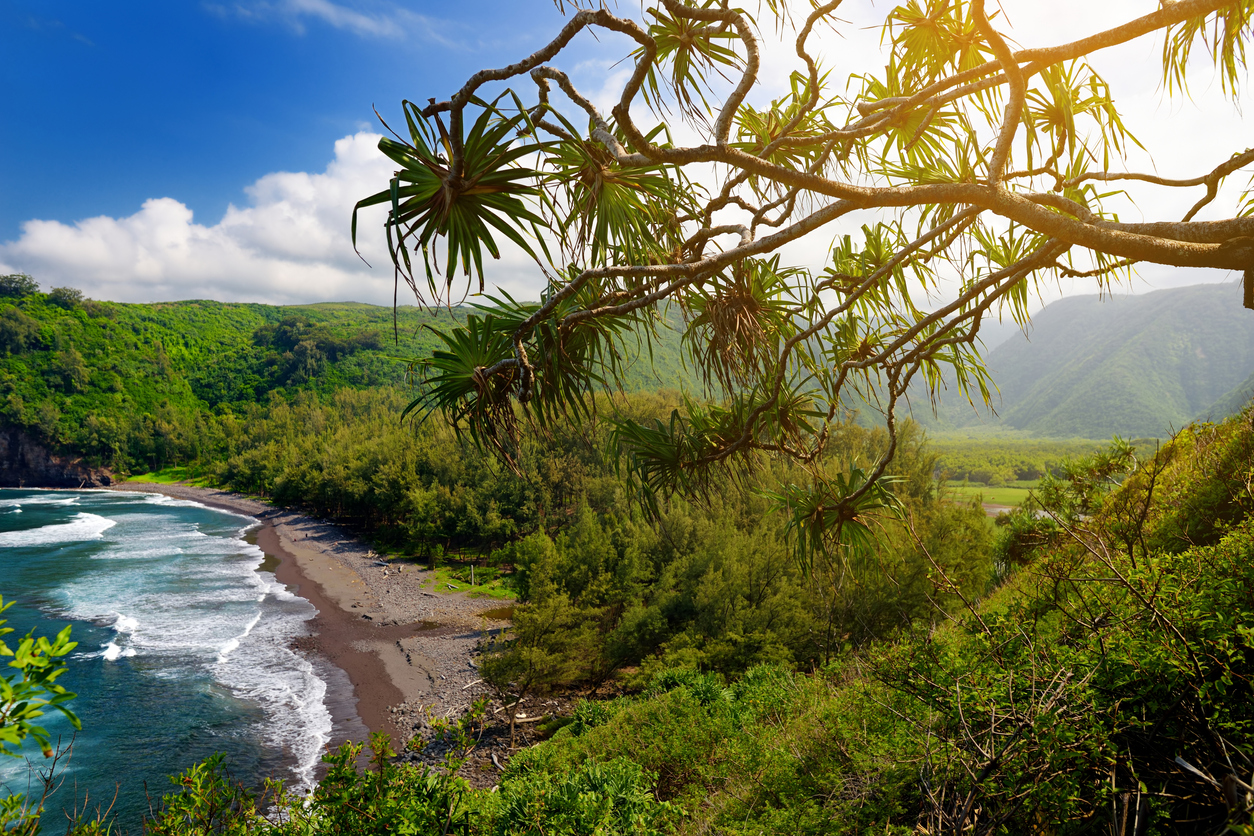 Things To Do Kohala Coast Big Island Hawaii
by Anthony Vaarwerk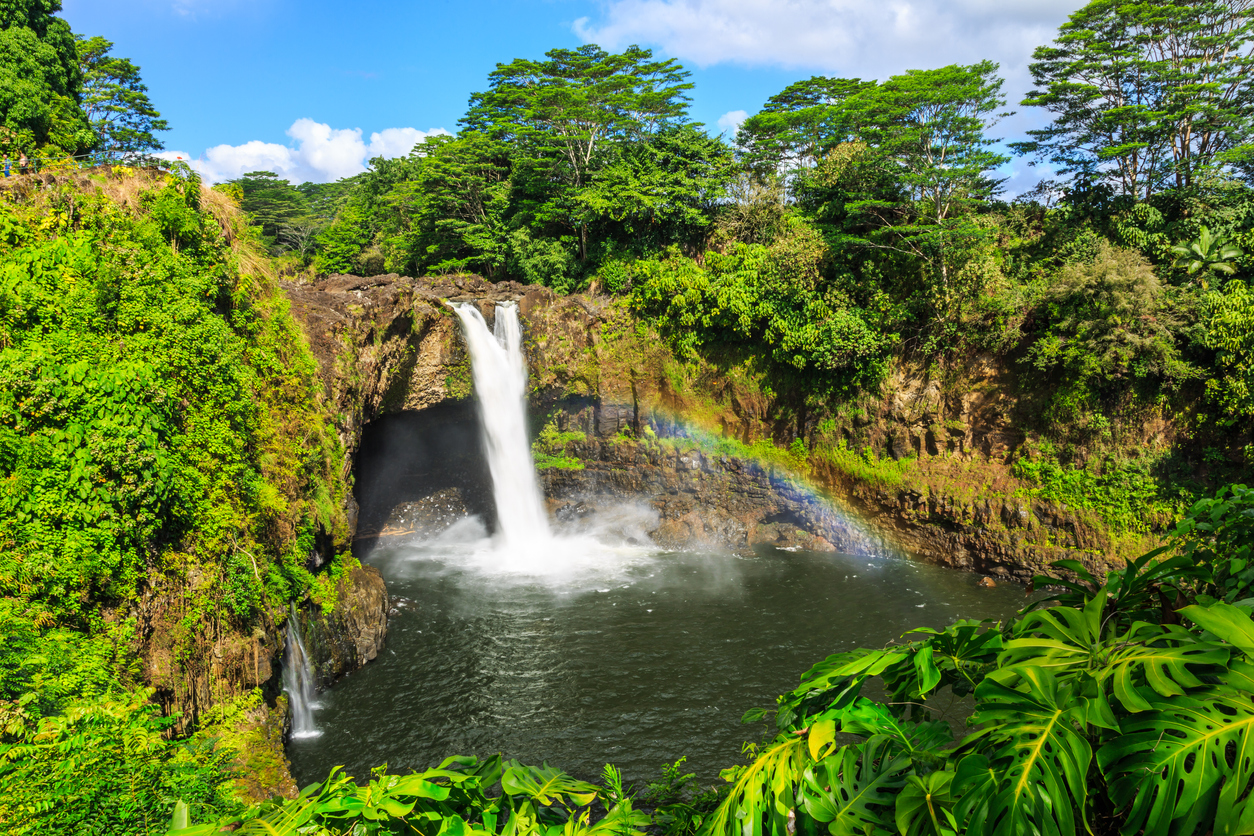 Hilo Hawaii Travel Guide
by Find Rentals
---