MISSION BEACH, CA--#2 Top Beach Area Vacation Destination
MISSION BEACH, CA--#2 Top Beach Area Vacation Destination
Mission Beach on a Mission for Beach Area Fun
Belmont Park, a Historic Oceanfront Amusement park, in the Mission Bay Area of San Diego, California[/caption]
Leave your stress behind and prepare for a beach area vacation sure to delight all family members--both young and old. Located within San Diego, Mission Beach is found in the hub of many of San Diego's major attractions.
Planning that special family vacation and looking for unforgettable family excitement, adventure, and world-class fun? Mission Beach, built on a sandbar between the Pacific Ocean and Mission Bay, is part of San Diego; and spans nearly two miles of ocean front. Mission Beach might just fit the bill!
World-class attractions are located near Mission Beach and include SeaWorld--about 2 miles away in Mission Bay; world-famous San Diego Zoo--8 miles; and the historic amusement Belmont Park in South Mission Beach. Belmont Park features the original wooden Giant Dipper Roller Coaster from the park built in 1925.
Activities in the Mission Beach Area
Looking for things to do while visiting Mission Beach? Since the area offers activities for all, boredom is not an option. From beautiful beaches and amusement parks, to vibrant nightlife, Mission Beach offers a plethora of choices.
Where to Eat and Nightlife
Mission Beach in general offers an eclectic assortment of eateries. Award winning french pastries and desserts, Le Parfait Paris is a popular organic bakery which promises the use of non gmo-flour in their pastries. However, if you crave Mexican food, try the ever popular La Playa Taco Shop on Mission Blvd. One of the most popular seafood spots in Mission Beach is the Single Fin Surf Grill.
The nightlife is alive in nearby Pacific Beach, and if you appreciate live music and popular bands, try either The Beachcomber or Canes Bar & Grill. This tropical-themed cantina gives music lovers an intimate venue to see big-time bands. In addition, the San Diego Performing Arts plays host to live entertainment, and 10 miles away is within minutes of Mission Beach.
[caption id="attachment_4871" align="alignright" width="426"]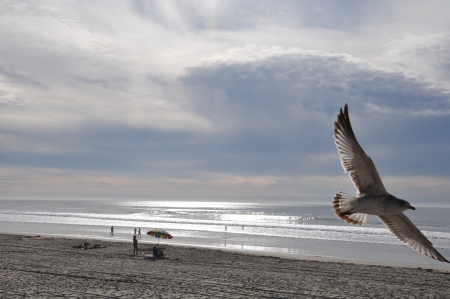 Mission Beach Scenery Near San Diego, California[/caption]
Without a doubt, shopaholics will find this beach town a lot of fun. Pangaea Outpost promises a diverse marketplace with indie merchants featuring local and international gifts and clothing. Also, Pacific Beach Marketplace, Gone Bananas, and BouTiki have earned rave reviews among shoppers. And, perhaps as you stroll, and enjoy the ocean breezes, you will also discover your own rave review shops along the Mission Blvd strip.
Getting into the Ocean
Indeed, without entering the ocean your arrival to the San Diego area will be incomplete. Notably, the Mission Beach area is possibly one of the world's most popular aquatic vacation destinations. Therefore, to answer that need, Jetpack America at Mission Bay Sportscenter offers skydiving, zipline, parasail and/or paragliding operators. If you cherish the adrenalin rush of extreme sports, you may want to suit up with proper equipment for your adventure at Jetpack.
Or, just enjoy the calm waters surrounded by sandy beaches and open grassy areas, perfect for an afternoon picnic in the quiet bay. Additionally, for those who are afraid to swim or feel lazy, kick off your shoes to feel the cool, soothing waters on your weary feet. Finally, for the ocean lovers, try renting a surf boat, jet ski, or boogie board and immerse yourself in the ocean which soothes and heals the soul.
Established in 2002, SeaBreeze truly epitomizes what it means to cater to not only vacationers, but to the property owners. A commitment to providing a once in a lifetime experience for guests, and a trusting and professional relationship with property owners is our top priority.
If you need a vacation rental to plan a family reunion, a corporate event, church retreat, a memorable wedding or a great family vacation, California Vacation Homes' inventory of $2 to $5 million San Diego oceanfront homes offer the elegance of a private home in a priceless setting.