Kayaking in the Sea Islands
Kayaking in the Sea Islands of South Carolina
*Some of the best tour kayaking in the country - what an enjoyable, relaxing, as well as, invigorating way to experience the Beaufort area!"
Kayaking is one of the best ways to enjoy the water. Especially, when in a place like the Sea Islands of South Carolina. Now the Sea Islands are a strip of barrier islands along the coast of South Carolina, Georgia, and Florida. Each state's coast and many of the over 100 islands offer great kayaking along the islands and into mouths of the rivers. However, for this article, we are focusing on the Sea Islands of South Carolina. So the combination of kayaking tips and the Sea Islands of SC.
Like myself, you may find that kayaking just may be the perfect new hobby for you. Find Rentals will pull together the tips and knowledge we believe beginning kayakers should know.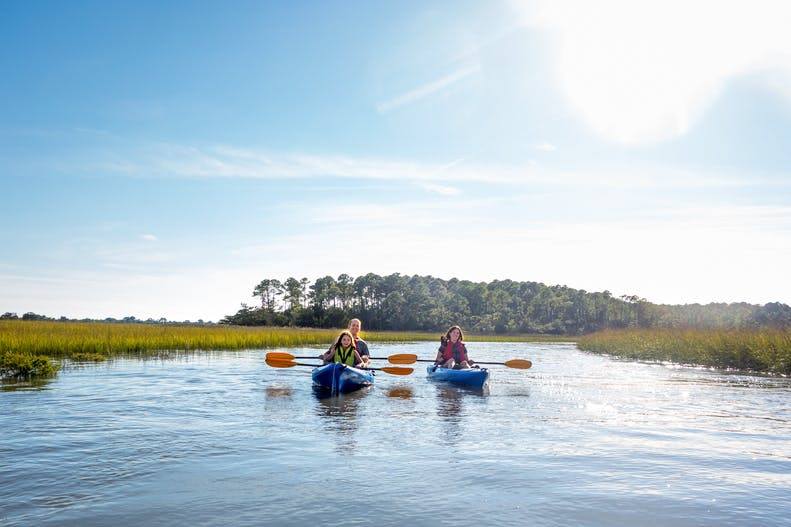 Visit Natural Retreats for more information regarding Vacation Rental Accommodations that include kayaks or ask about kayak rentals for the area. Go Kayaking along the Sea Islands of South Carolina in and around Edisto Island, Dataw Island, Daufuskie Island, Fripp Island, Harbor Island, Hilton Head Island, Hunting Island, Hutchinson Island, Kiawah Island, St Helena Island, and more.
Recommended Sea Island Vacation Rental Management Company
Natural Retreats Sea Island - Professional Property Management Company that helps guide guests to the right handpicked home, providing recommendations based on each guest's needs and requests.